Jamaican-born player thanks Jah for a new day
By Ricky Browne
England managed to beat Germany in a major football match for the first time since winning the World Cup at Wembley in 1966 – thanks to two goals, the first from Jamaican-born Raheem Sterling, and the second from Harry Kane, the England captain.
But the way it has been covered by the press in the UK, you would be excused for thinking that all glory goes to Kane, with him dominating the front pages for most papers.
Not that the coverage bothered Sterling, who made reference to his Jamaican roots in his first tweet on the day after the match.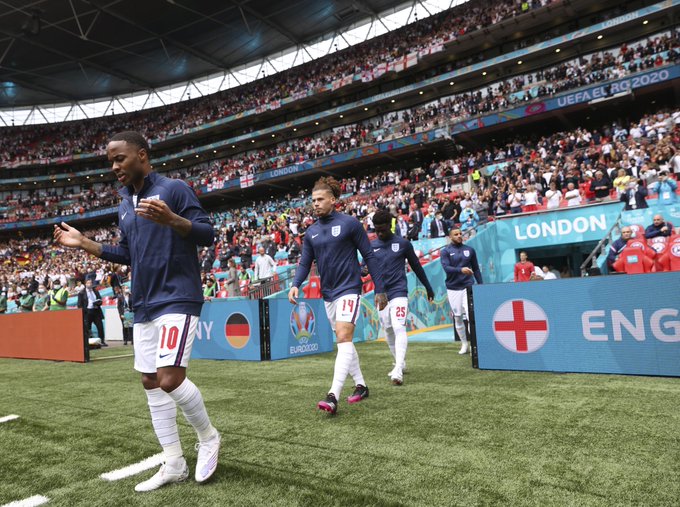 "Thank yuh Jah fi wake me up this morning" Sterling tweeted – along with a photo of him going onto the field, with his hands apparently in a position of giving praise.
'Jah' is a Jamaican term for God, which has roots in the Rastafarian religion which started in Jamaica. It is believed to be a shortening for the term Jehovah or Yahweh.
His tweet got 27,100 likes and 297 comments.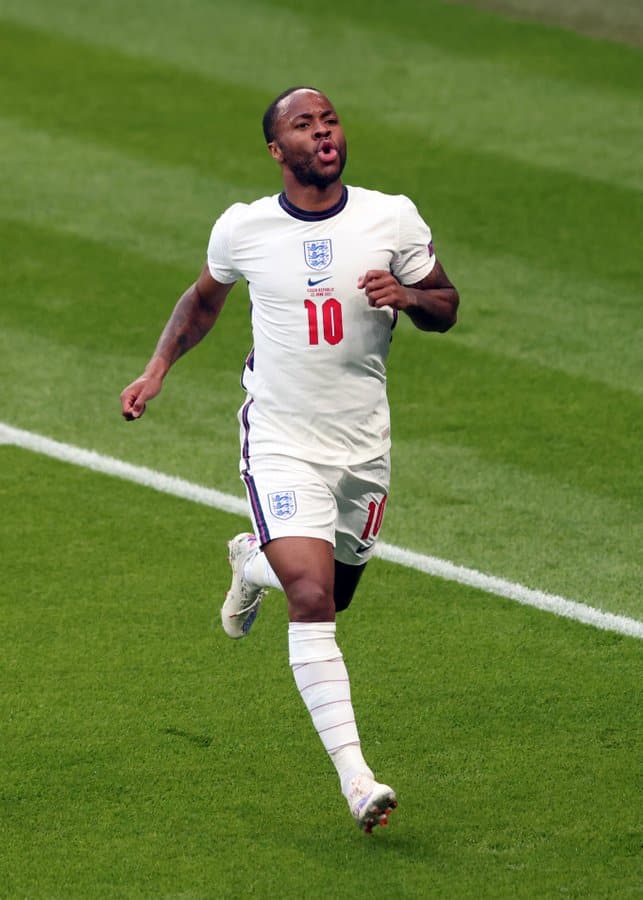 An earlier tweet was even more popular.
"Love to all the fans supporting at home and all the fans at Wembley stadium, you were with us all the way," he tweeted just after the match.
That tweet got 238,300 likes and 3,300 comments. Sterling has 2.8 million followers.
Harry Kane also tweeted just after the game. "Absolutely buzzing!! Massive performance in front of a rocking Wembley!!! Get in there!!" with an England flag followed by three lios' heads emojis. He also included two photos of him celebrating his goal. This was his most popular post-game tweet and he got 78,400 likes with 945 comments
As the England captain, Kane has 3.2 million followers.
It was Sterling's third goal — and England's third — in this tournament. Kane's goal was a great relief to many — not least Kane himself — as the captain had not yet scored. So finally breaking his ducks was definitely a big thing – though the newspapers largely ignoring Sterling's winner seemed to some to be a continuation of the bad press that the player has traditionally received.
But t was also pointed out that Sterling had dominated the front pages for his previous two goals – so maybe it was fair for the lens to now concentrate on the captain.
But cheers to the Financial Times and cheers to The Sun, for championing Sterling on their front pages.
Its not often that the Financial Times and The Sun receive praises for taking a similar position for their lead stories.
The staid FT featured a photo of Sterling just after his goal with the headline "Sterling effort England recall the spirit of '66".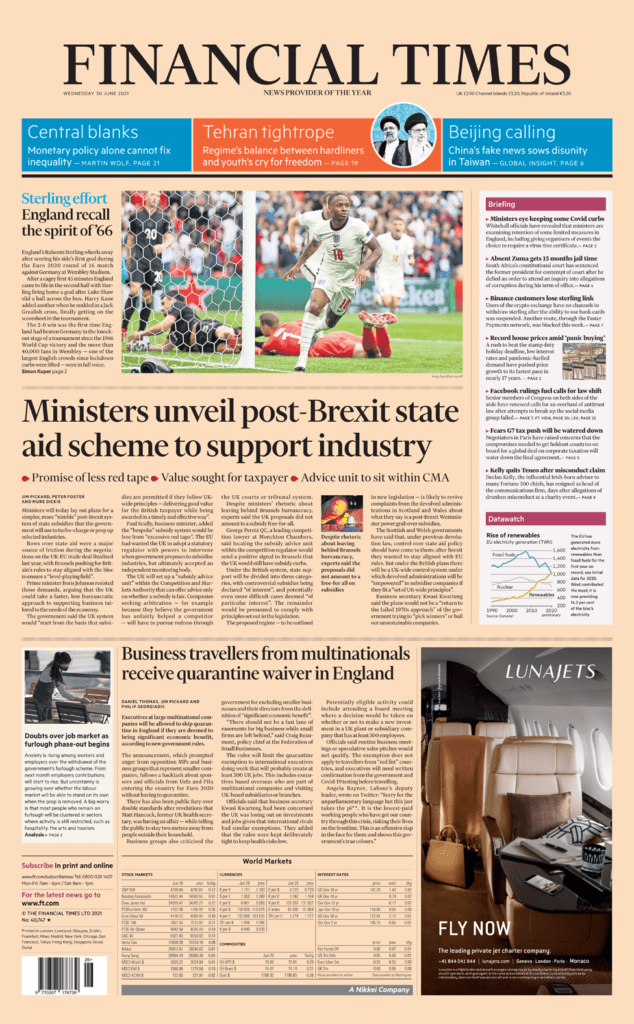 The Sun went even larger with its praise for Raheem. With a photo of Sterling celebrating his goal, the paper ran the headline "55 years of hurt never stopped us Raheem-ing"  – – plait was playing on the line from the hit football song "Three Lions  (Football's Coming Home" which goes "30 years of hurt never stopped me dreaming" first written for the World Cup in 1996.
The front page also carried a small headshot of Kane celebrating and the footnote… "… and Kane finally scores as 3 Lions thump old enemy".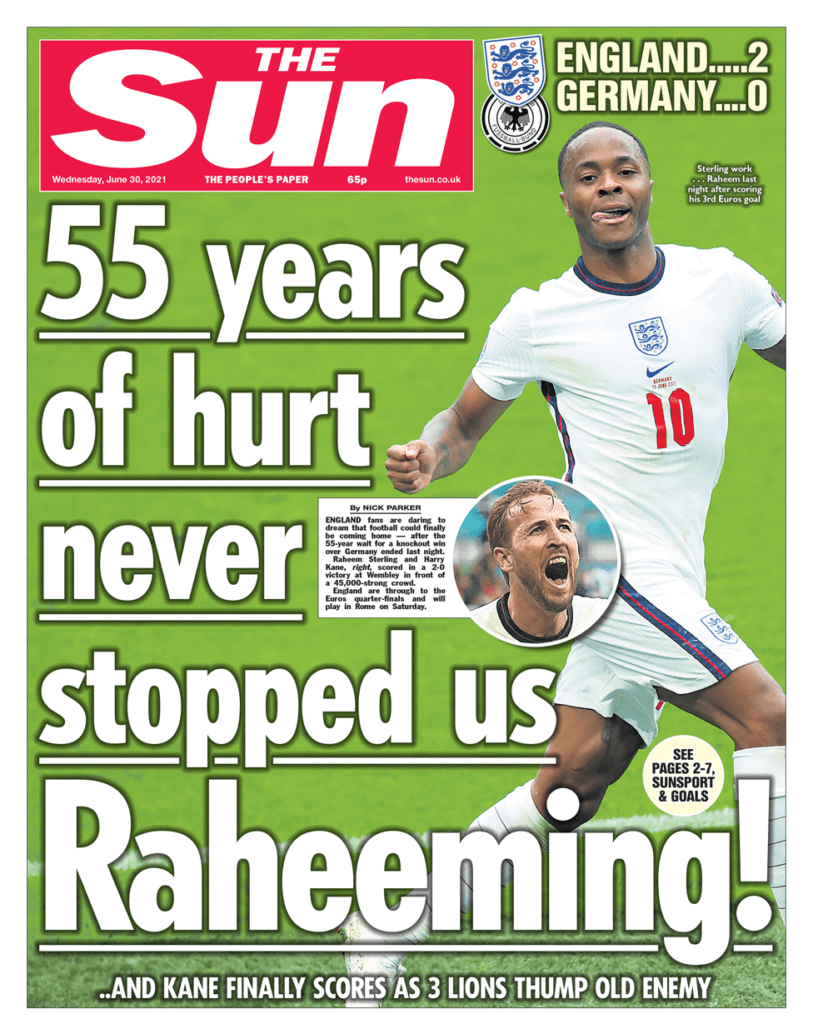 "England's Raheem Sterling wheels away after scoring his side's first goal during the Euro 2020 round of 16=match against Germany at Wembley Stadium" read the lead paragraph.
But the other broadsheets and tabloids followed through with their love of Kane over Sterling.
The Telegraph ran a large photo of Harry Kane celebrating his goal, with the headline "Finally something to cheer about" .It was as if Sterling's earlier winning goal didn't count.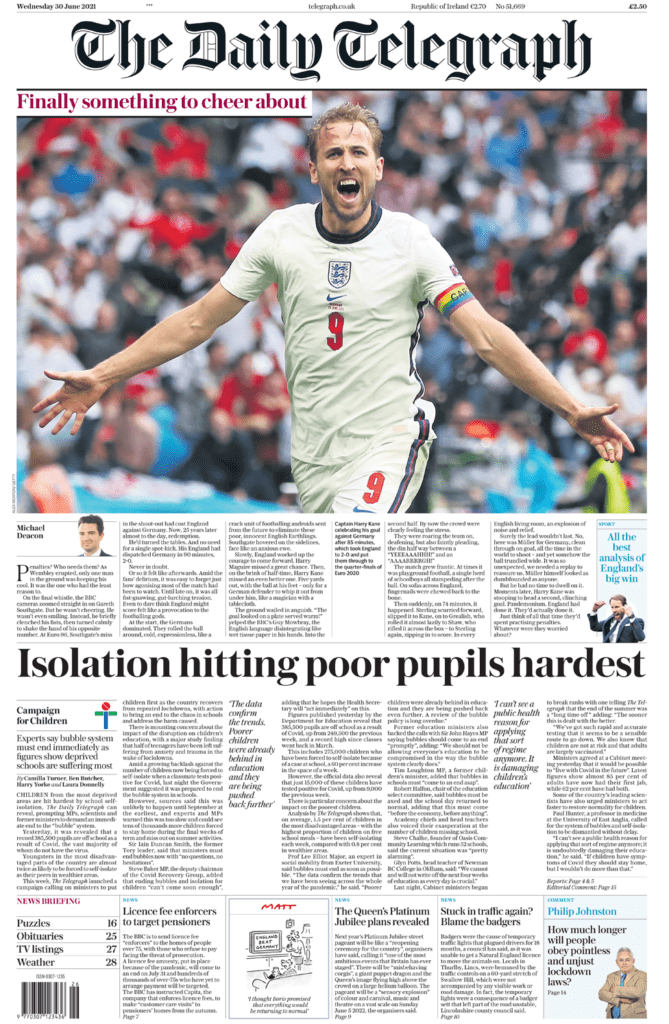 The Times ran a photo of Kane celebrating his goal, with the headline "Dream result: England end their German nightmare"
The Guardian ran the headline "England 2 Germany 0 Like emerging from a dream into a strange new light" – with a photo of Raheem on nis knees looking into the eyes of a protrate Kane, while other England players huddled around in celebration of Kane's goal.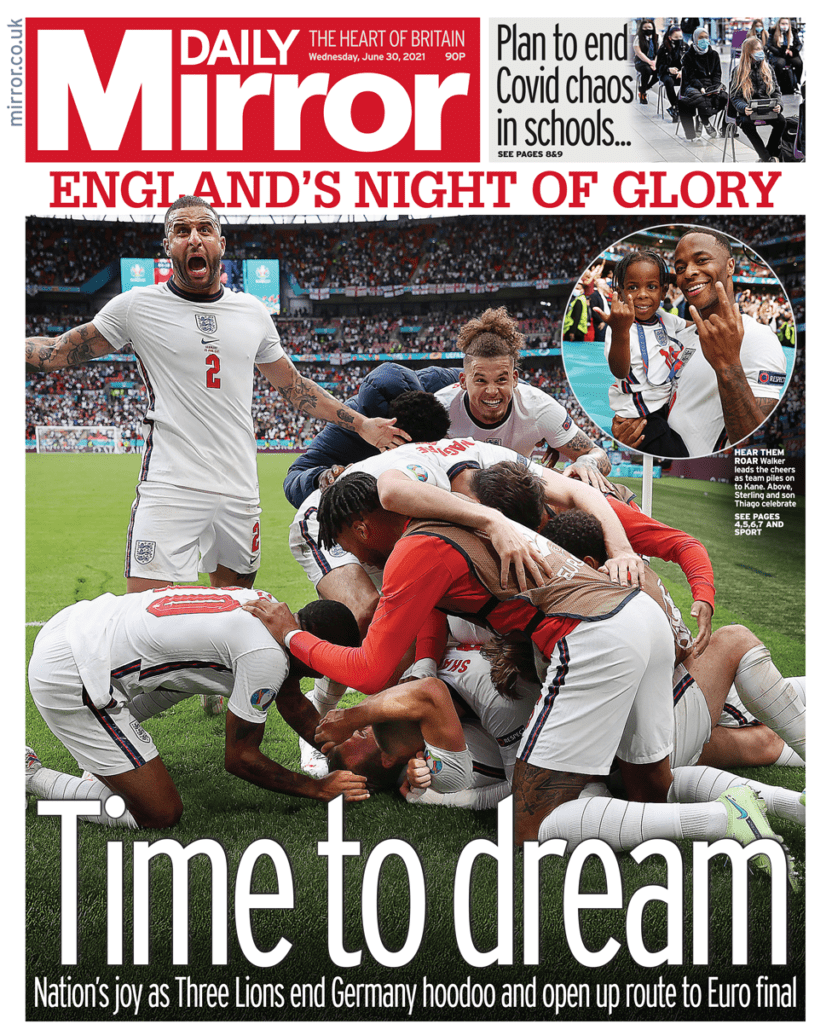 The Mirror ran the same photo with the headline "England's night of glory. Time to dream. Nation's joy as Three Lions end Germany hoodoo and open up route to Euro final" But the newspaper also ran a separate photo of 26-year-old Sterling posing in celebratory mood with his son Thiago.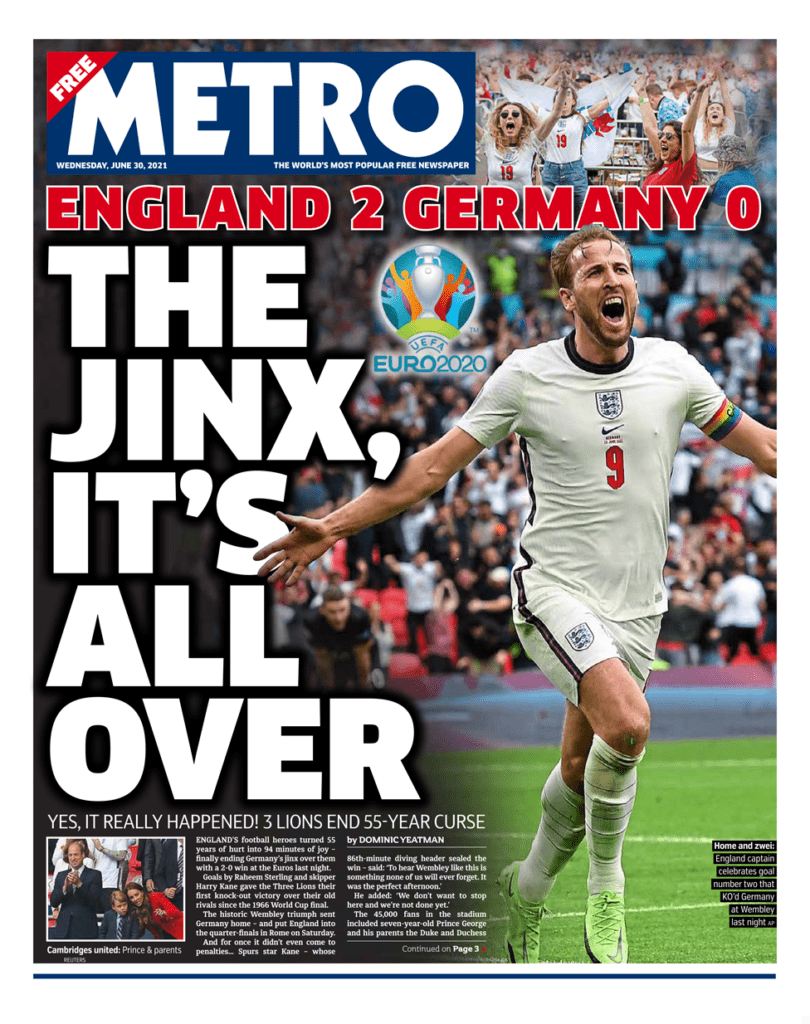 The Metro ran a headline that seemed to put all the glory on Kane's head. "The Jinx, it's all over" but the jinx in question could have been not only Englands previous inability to beat Germany, but also Kane's previous inability to score in this tournament.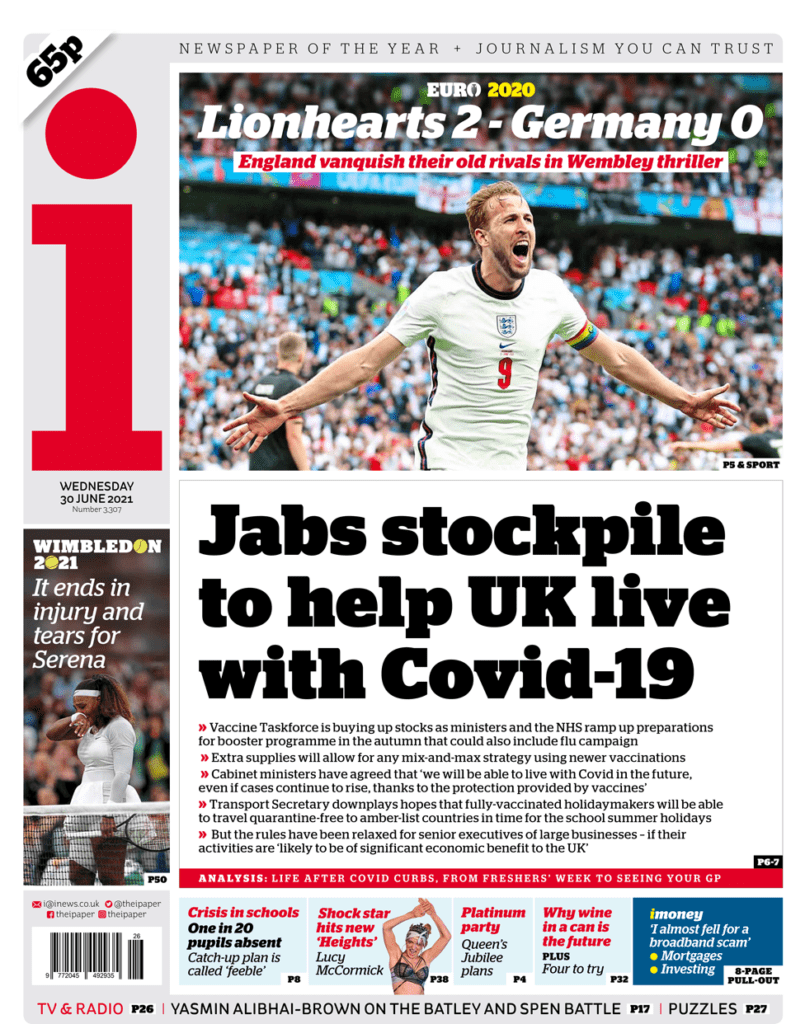 The i newspaper ran a photo of Kane in celebration of his goal with the headline "Lionhearts 2 – Germany 0 England vanquish their old rivals in Wembley thriller".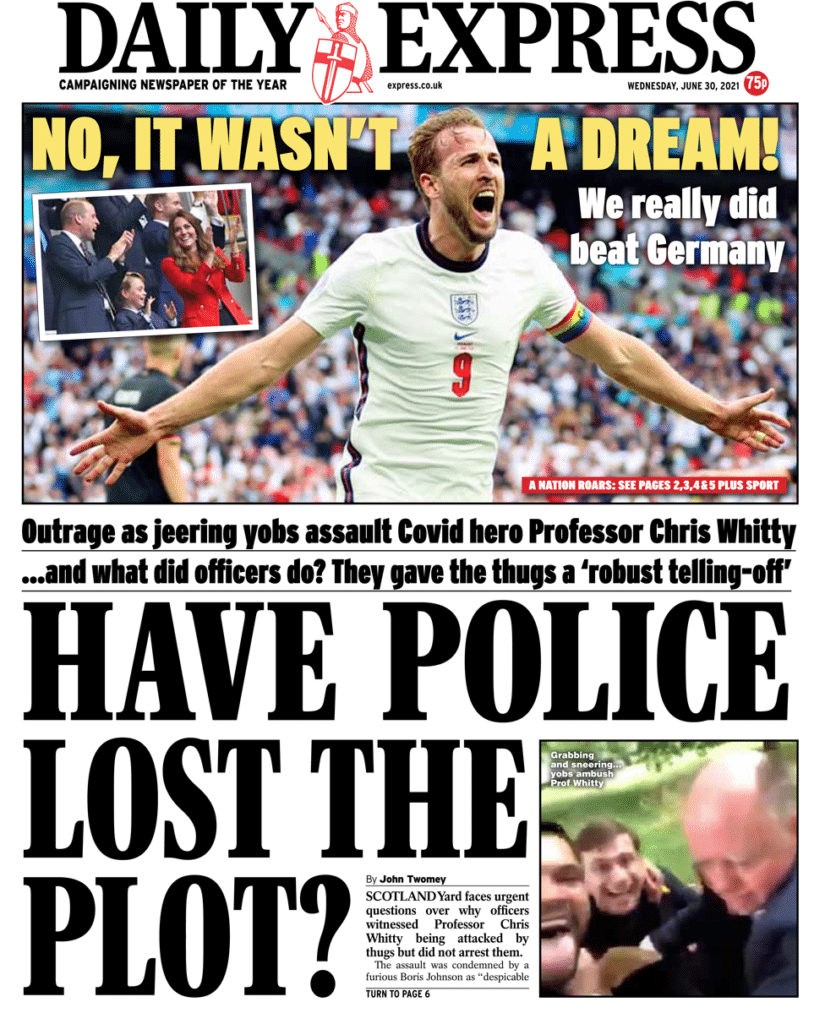 Tabloid Daily Express ran a similar photo of Kane, with another photo of Prine William Kate and their son George cheering, and the headline "No, it wasn't a dream! We really did beat Germany".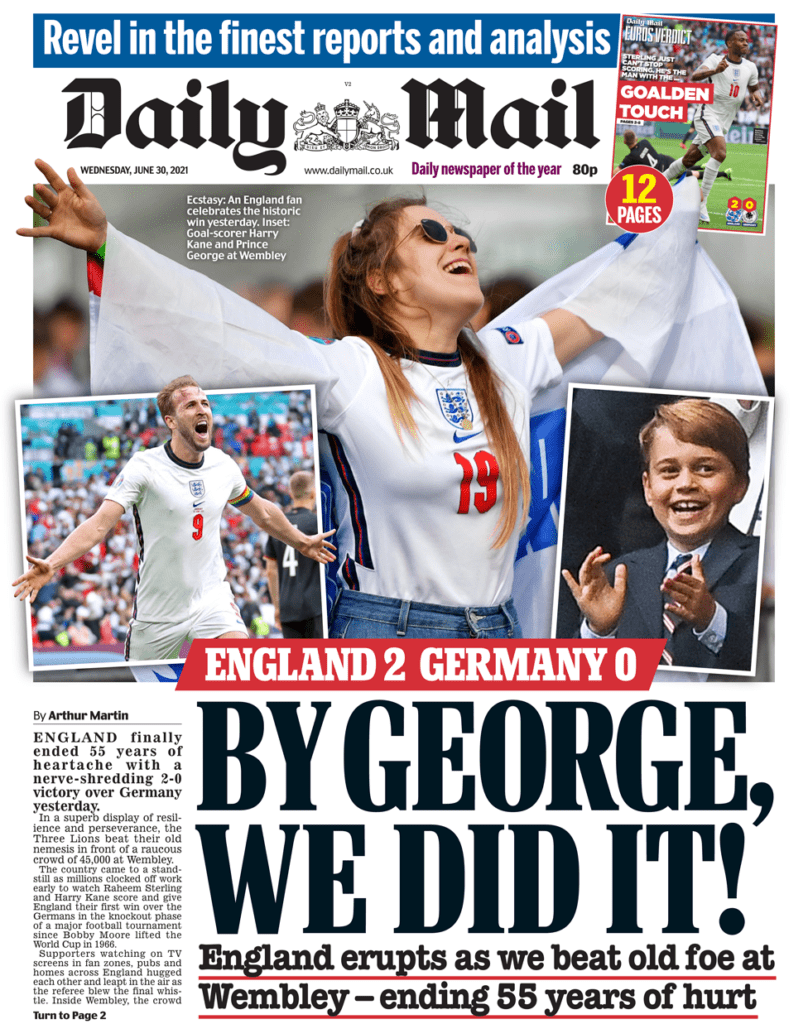 The Daily Mail went royal as well – with a photo of Prince George applauding, along with Kane celebrating his goal and an England fan celebrating the victory. The headline was "England 2 Germany 0 By George we did it . England erupts as we beat old foe at Wembley – ending 55 years of hurt"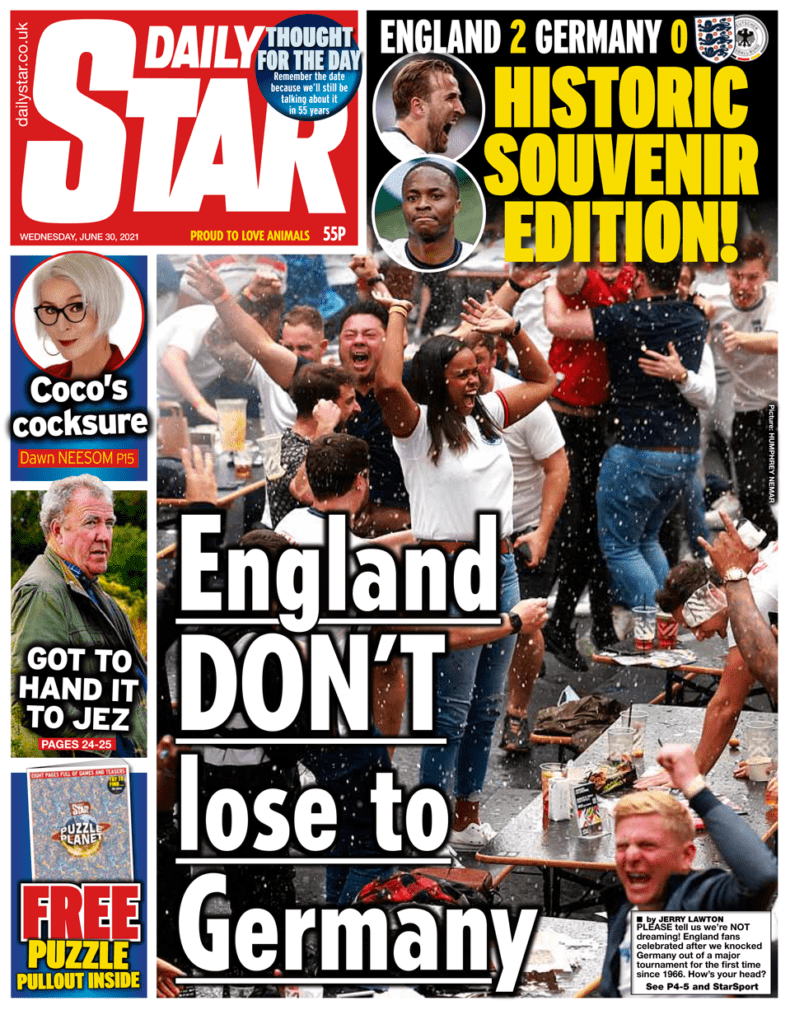 Only one paper didn't run a main photo of Sterling, Kane or indeed any of the England players. That was the tabloid the Daily Star – which produced a "Historic souvenier edition" and  ran a photo of celebrating England fans in an outdoor location. The headline was "England DON'T lose to Germany". But the front page did include two small headshots of the goal scorers – Kane in prime position cheering his goal, and Sterling looking a little more stern after his goal.
TWITTERSPHERE
The absence of Sterling from the front pages did not go unnoticed on Twitter.
"Was Raheem Sterling playing today?" tweeted Nazir Afzal, along with a photo of four frontpages.
His tweet got 10,100 likes and 582 comments.
In another tweet he said: "Credit to the Sun who don't think he's Obscene anymore apparently – running The Sun's frontpage along with a previous front page, which had the headline "Sterling sinks to new low. England failure steps off plane and insults fans by showing off blinging house. Obscene Raheen."
That is the kind of coverage that Sterling has had to face for years. But his sinning goal in yesterday's game may mark a turnaround for him – even if most paper's took little note of his goal.
The Sun may have had a glowing headline today, but previous headlines have been anything but … at least according to Chris Rand who tweeted: "The Sun's front page tomorrow is devoted to idolising Raheem Sterling. A quick Google search reminds us how they've obsessively tried to bring him down over the years." He followed that up with the hashtag — #Don'tBuyTheSun.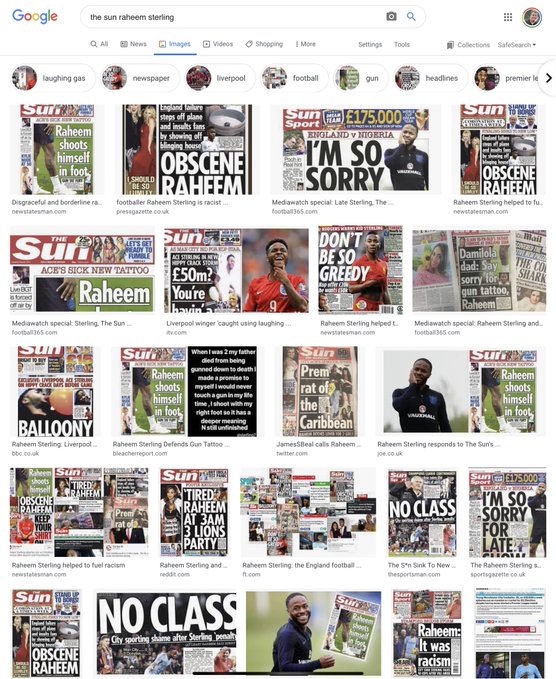 He included an image of several previous Sun headlines that were less than complimentary to Sterling. His tweet got 3,100 likes.
Political leaders also got onto Twitter to cheer England.
Boris Johnson tweeted about the game, with a photo of him watching Kane celebrate his goal.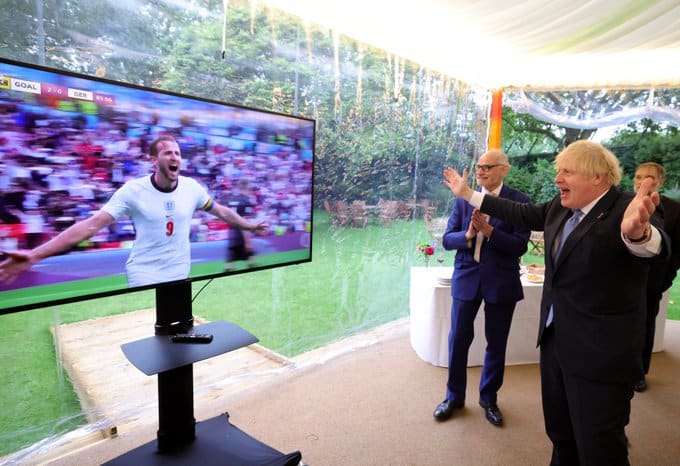 "Well done @England! We're all behind you – bring it home!" tweeted the Prime Minister who's not well known for being a big football fan.
His tweet got 37,600 likes, and 2,400 comments. With 3.5 million followers, Johnson is just ahead of Kane's 3.2 million.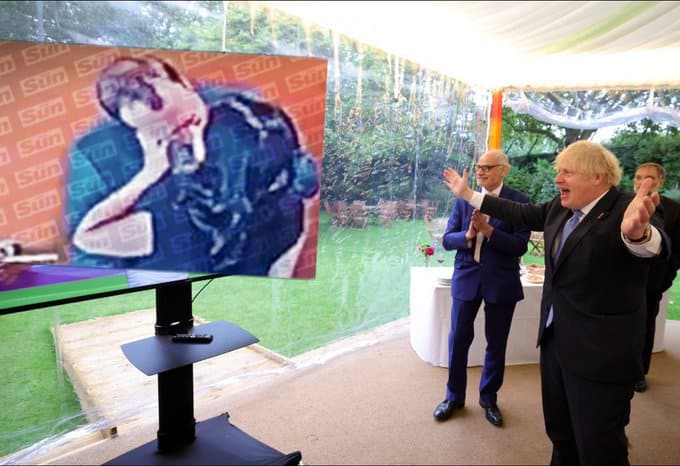 But his choice of image didn't go unnoticed.
"Why the goal from Harry Kane rather than the absolute stunner and door opener from Raheem Sterling?" tweeted Mal Reed.
Meanwhile, Chief Minister of Scotland was able to congratulate England on its victory in a tweet yesterday – though not without inserting a little dig.
"Congratulations, @England
(Still just one team unbeaten by so far in @EURO2020)
That last bit was in reference to the 0 – 0 scoreline that the England – Scotland match had.
The tweet carried an English flag, a winking smiley icon and a Scottish flag.
Her tweet got 21,600 likes. With 1.4 million followers, she has significantly less than Raheen Sterling.