UK to be first net-zero financial centre says Sunak
COP26 moved into discussions about finance today, with the UK taking the lead as Chancellor of the Exchequer declared that the country would become the "first-ever net zero aligned global financial centre".
But what does that mean?
Under the plan, ever company on the UK stock exchange will need to give annual reports on how it is becoming more green – with financial penalties for thoe that fail to coply. Theoretically they could be either fined or removed from the stock market.
The move will make it more important for companies involved in mining, oil or coal to move towards greener fuels. Financial groups will also be pressured to create and grow green investments.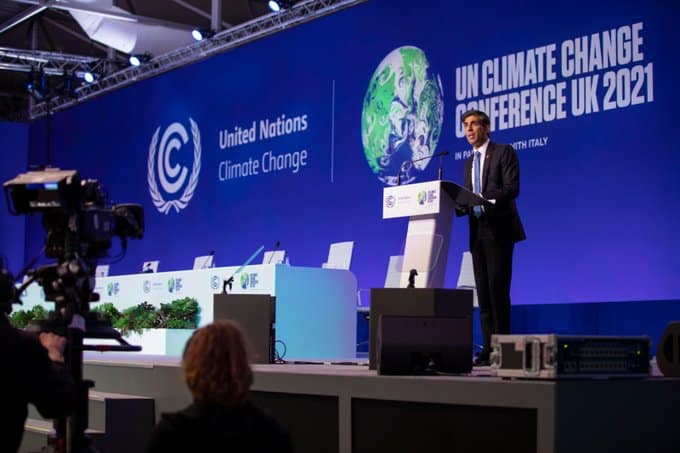 The new rules could be introduced by 2023.
"This means we are going to move towards making it mandatory for firms to publish a clear, deliverable plan…" Sunak said "…setting out how they will decarbonise and transition to Net Zero – with an independent Taskforce to define what's required.
"So: a renewed pledge to $100bn a year of public funding;
"Over $130 trillion of private capital waiting to be deployed;
"And a greener financial system, under way," he said.
Sunak added that it would mean "Better and more consistent climate data; sovereign green bonds; mandatory sustainability disclosures; proper climate risk surveillance; and proper global reporting standards."
He said that 450 companies, with financial assets of about £95 trillion (US$130 trillion), had agreed to commit to limiting global warming to 1.5C.
He went on to explain some real world examples about how changes could affect people's lives.
"We're not simply talking about numbers on a page. We're talking about making a tangible difference to people's lives," he said.
"About cheap, reliable and clean electricity to power schools and hospitals in rural Africa.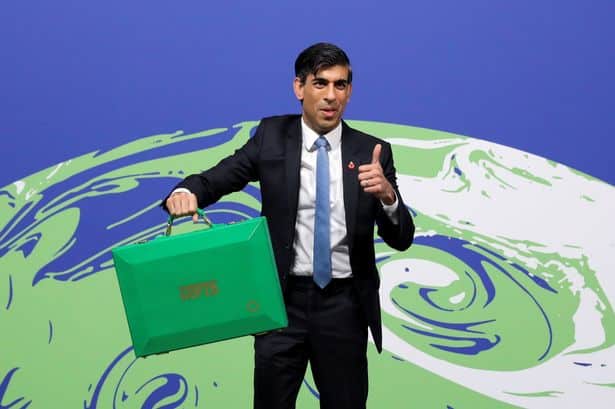 "About better coastal defences in the Philippines and the pacific islands to protect people from storm surges.
"About everyone, everywhere having fresher water to drink…
"…cleaner air to breathe…
"…better insulated homes in which to live.
"That's the vision we're asking you to commit to," Sunak said. "That's the opportunity we're asking you to invest in. And that's the work we're asking you to begin, today," he said.
Later, Sunak explained more in a tweet.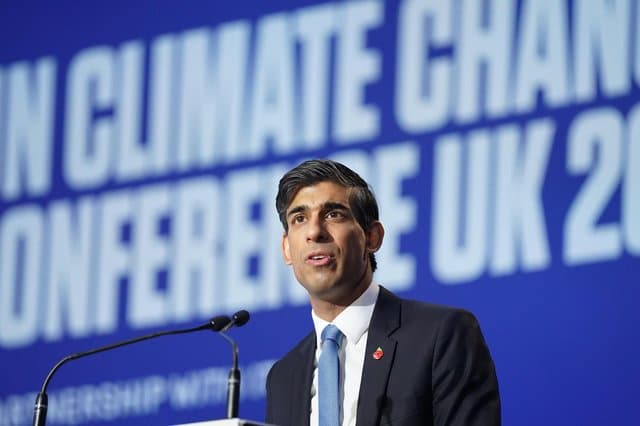 "Nearly 500 financial services firms from across the world have agreed to align $130trn of the assets they hold to the climate goals in the Paris Agreement – including limiting global warming to 1.5C," Sunak tweeted after his speech, with a photo of him holding a green box labelled COP 26.
"The clock is ticking. It's time to finance our future," Sunak said in another tweet.
And in another he said: "We're rewiring the financial system for net zero with over $130 trillion, around 40% of the world's financial assets, now being aligned with Paris climate goals."
The amount represents 40% of the world's financial assets – which will "now be aligned with the climate goals in the Paris Agreement, thanks to climate commitments from financial services firms," according to gov.uk.
"These commitments will help to create a huge pool of cash that could fund our net zero transition, including the move away from coal, the shift to electric cars, and the planting of more trees," gov.uk said.
The move strengthens the UK's position as one of the global leaders in working towards limiting climate change – arguably appropriate for a country which initiated the industrial revolution some 200 years ago.