By Ricky Browne
Ma Thuzar Wint Lwin, otherwise known as Miss Universe Myanmar, has brought a new meaning to the term 'beauty with a purpose'.
True, she was the delegate for her country in yesterday's Miss Universe contest and not Miss World – which is the one that lays claim to the 'beauty with a purpose' motto. The Miss Universe motto is actually 'Confidently Beautiful' .. and she was that, but she was even more confident about expressing her political views, and highlighting the misery that has currently taken over her country.
At a time when the Covid-19 pandemic continues to take world headlines, now joined by the war between Israel and Palestine – the murder of its citizens by the Myanmar military has been side-lined by the media since claiming world headlines with the military crackdown in March.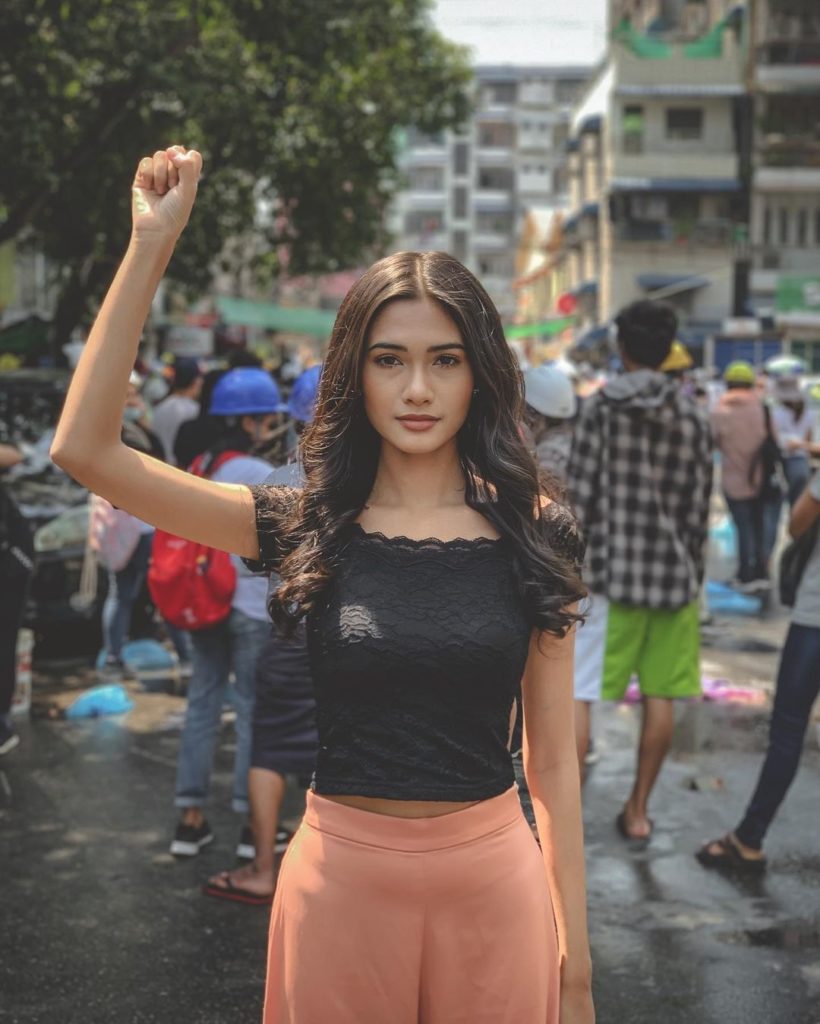 Recently, more than 200 Palestinians and 10 Israelis have been killed in the most recent continuation of the war between those two countries, with that number rising daily. That number includes at least 58 Palestinian children and two Israeli children.
But the number of deaths also continues to rise in Myanmar, where most recent figures show that up to May more than 800 people hav been killed by the Myanmar military, including some 50 children. And another 5,000 protestors have been arrested.
"Pray for Myanmar" was the message on a placard unrolled by the beauty contestant as she paraded in her national dress on the Miss Universe stage at the Seminole Hard Rock Hotel and Casino in Hollywood, Florida yesterday.
Later, when Thuzar was selected for the final 21 contestants, she got an opportunity to say more – and dived right into telling people about what is happening in her country.
"I think you already know about the news about the crisis in Myanmar. Our people are dying and being shot by the military every day," she said in English in a video message on the programme.
"I would like to urge everyone to speak about Myanmar. As Miss Universe Myanmar since the coup, I have been speaking out as much as I can," she said in her own language.
Prior to the competition Lwin – who also goes by the name Candy Thuzar — released a video showing herself in beauty-fashion mode, wearing elegant evening wear – and juxtaposing that with images of the military shooting Myanmar citizens.
"Myanmar deserves democracy," she says in the video. "We will keep fighting, and I also hope that international communities will give us help that we desperately need."
And in an interview with The New York Times, she was even more upfront. "They are killing our people like animals," she was reported as saying. "Where is the humanity? We are helpless here."
Earlier this year the Myanmar military overthrew the government of Aung San Suu Kyi, whose party the National League for Democracy (NLD) had been re-elected in a general election late last year, but which has not been allowed to come back to power.
The military said that there had been widespread fraud in the election, set up a state of emergency, and said it would hold free and fair elections in the future.
Mass protests in the streets were suppressed by the military, with hundreds of citizens shot down by the military, which is continuing to take action against anyone considered to oppose its authority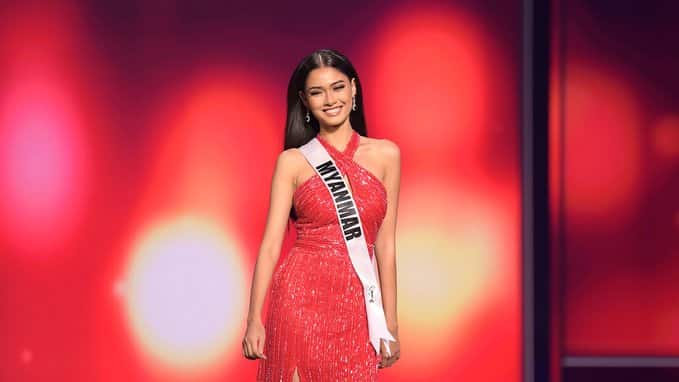 Thuzar's call was viewed by millions of people around the world.
Although such contests are barely watched in the United Kingdom or much of Europe anymore, the contest still gets high numbers of viewers in some parts of Asia and Latin America — as much as 500 million in 190 countries according to an estimate from The Miss Universe Organization.
The military has not taken kindly to Lwin's statements, and has reportedly said she cannot return to Myanmar, and that a warrant has been issued for her arrest.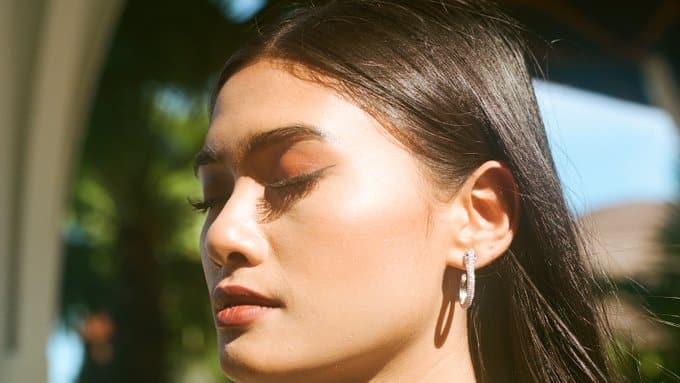 Thurzar is a 22-year-old model and is currently studying English at the University of East Yangon . She also holds a and diploma in tourism and hospitality management from Star University in Myanmar. She is also a blogger, and has about 150,000 followers on Instagram.
Thurzar is from the Chin state in Myanmar, which borders India. The same day that she was appearing on stage, the Myanmar army marched into Mindat, a small town in her state to suppress opponents of the military there. The Chinland Defence Force – called terrorists by the Myanmar army — said that six of their rebel fighters had died as a result, according to a report from the BBC.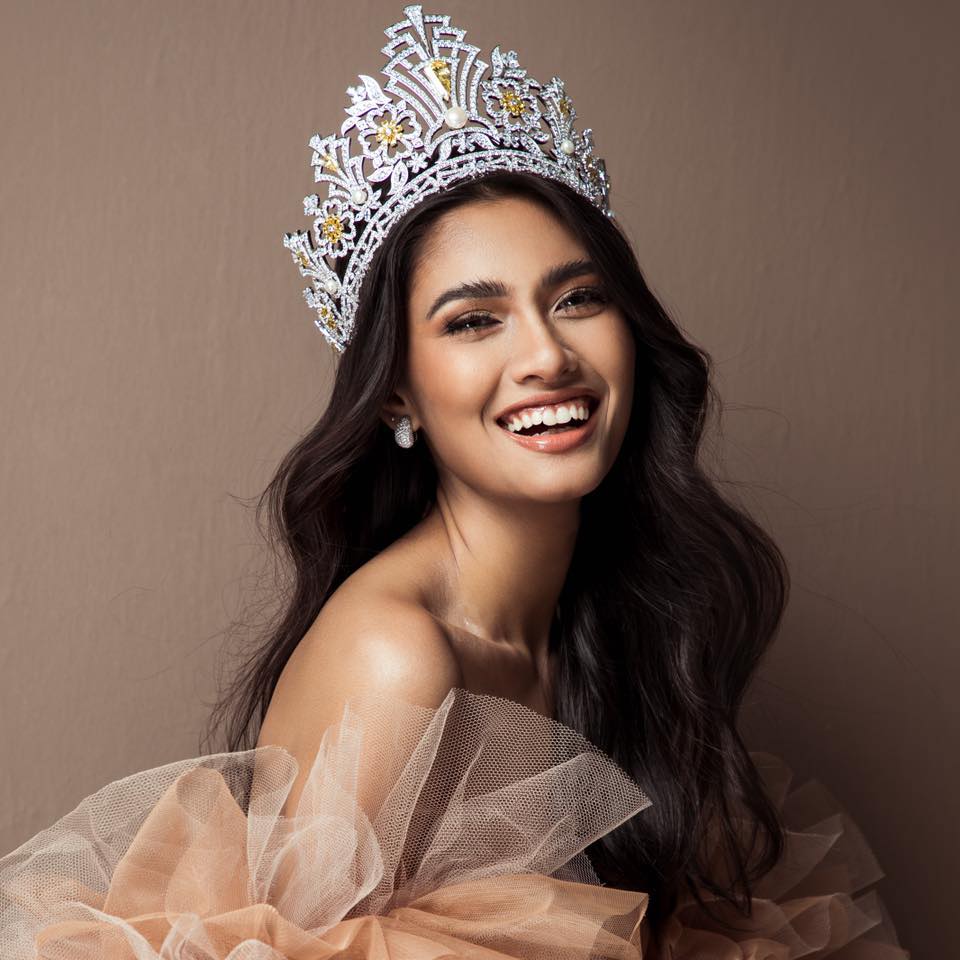 In the end, Thuzar didn't win the Miss Universe title – that position was taken by Miss Mexico. But she did win best national costume, which was quite a victory considering that her luggage never made it to the contest, and all her clothes, including her national costume, were donated to her by Burmese people living in the US – and by fellow contestants.
What next for the 22-year-old, who's passion for beauty and make-up seems to now have been superseded by her passion for justice for her people?