Nigella Lawson praises Jamaican sauce
By Ricky Browne
Pickappepa Sauce got an unexpected boost to its potential sales in the UK, when it received high praise from British celebrity TV chef and domestic goddess Nigella Lawson on her show on the BBC earlier this week.
The recommendation could do more for Pickapeppa demand in the UK than any advertising campaign could ever do.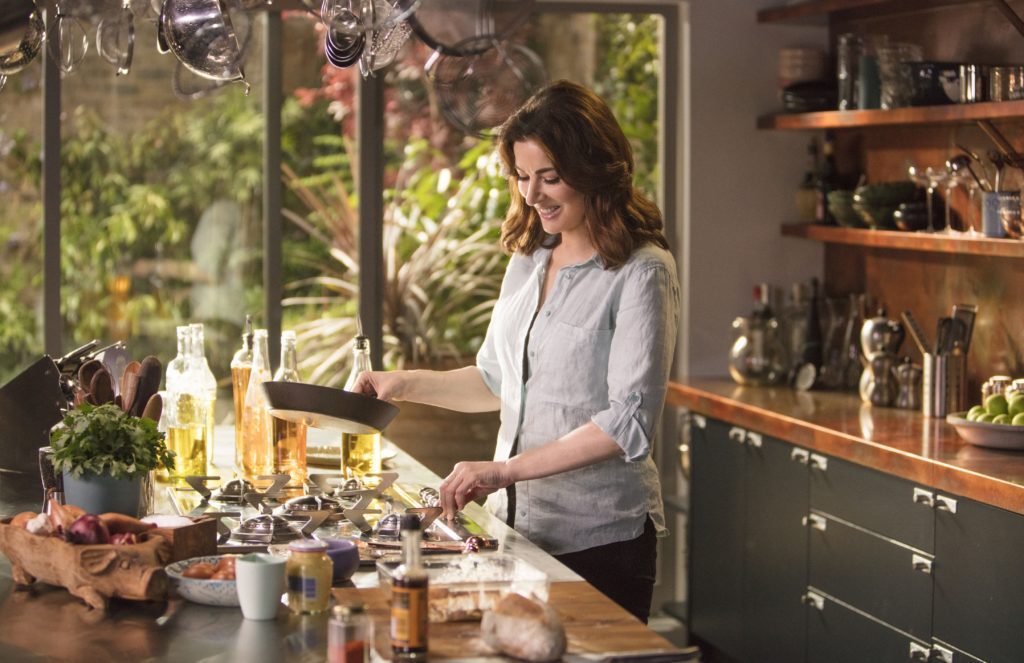 On her show Nigella At My Table, Lawson went into her pantry and extracted a bottle of Pickapeppa sauce – Jamaica's premier condiment.
Although she didn't actually use the sauce in her show – she recommended it highly, particularly for marinades.
"You find me in the hotspot because I'm after a bit of fire in my foods." she said as she went to a shelf laden with sauces. "I've quite a collection of hot sauces."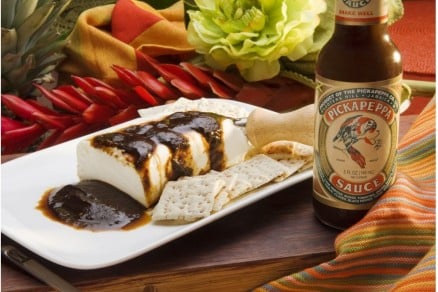 She then picked out a bottle of Pickapeppa Sauce, displayed it for the camera, and said "Now, this one is Jamaican and in fact it has more of a heady sourness than heat and it's great for marinades – so I don't need it now."
Not so lucky was a bottle of a sauce made from blueberries – "any more than a pinprick of this – fabulous though it is — will leave your mouth numb for a week".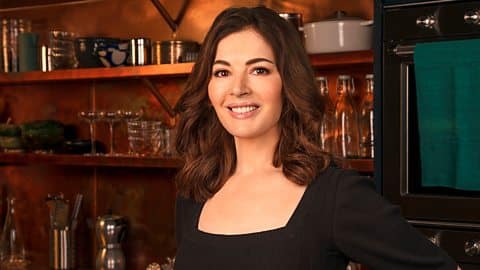 She then resorted to some sriracha sauce to use for an baked egg and cheese dish – which arguably would have gone very well with Pickapeppa sauce indeed.
But the simple recommendation for the Jamaican sauce from one of the most idolized TV chefs in the UK could have a massive effect on the popularity and therefore sales in the UK.
People who can't live without a bottle in their kitchen would be advised to get two or three bottles for their next purchase, just in case demand outstrips supply.
Pickapeppa sauce is an all-Jamaican product, that has been produced at Shooters Hill, in the parish of Manchester since 1921. It is the premier brand of sauce from the island and has many imitators both local and foreign.
"Since its creation in 1921, Pickapeppa Sauce has established itself as an international legend. A must-have sauce for knowing connoisseurs, Pickapeppa Sauce is now available in every country and can be found on the tables of many fine restaurants, the world over. Like Jamaica itself, a mixture of diverse worldwide cultural influences through cuisine, music, dance and art," says the opening paragraph on the history of the sauce from its official website.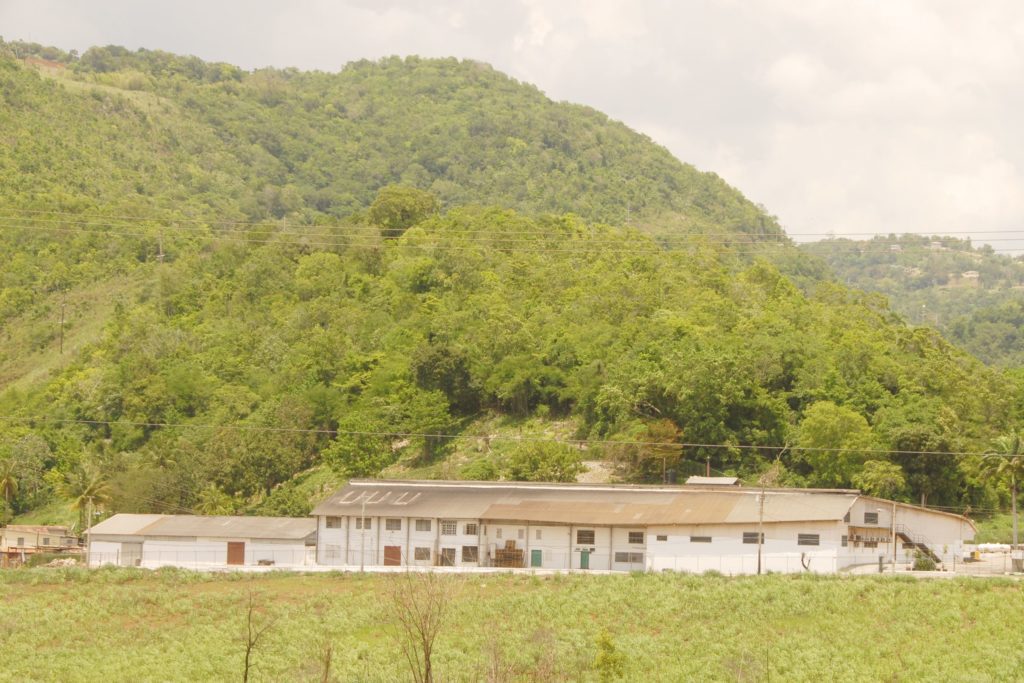 It could be argued that its original black Pickapeppa sauce was actually an imitation of some other foreign brands – such as A1 Steak Sauce from the United States or HP Sauce from the UK – but let's not dwell on that.
Although Jamaican, the ingredients for the sauce actually come from seven different countries. Ingredients include tomatoes, peppers, onions, sugar cane, cane vinegar, mangoes (all available in Jamaica) plus raisins and spices such as ginger, cloves, thyme, black pepper and orange peel. But the recipe is a secret, so not all ingredients are known to the public.
The award-winning sauce contains no artificial preservatives, flavourings or colourings.
The sauce is aged in oak barrels for at least a year, which helps to give the sauce its distinctive flavour.
The sauce is able to charge a premium for its product on both the Jamaican and foreign markets.
In Jamaica its really only someone who wants to save a little on their groceries that would bother to buy one of the many imitations. It's hard to find a Jamaican kitchen locally or abroad that doesn't have a bottle of the sauce, used for marinades, as an addition to the cooking process or as a sauce that is used liberally after cooking.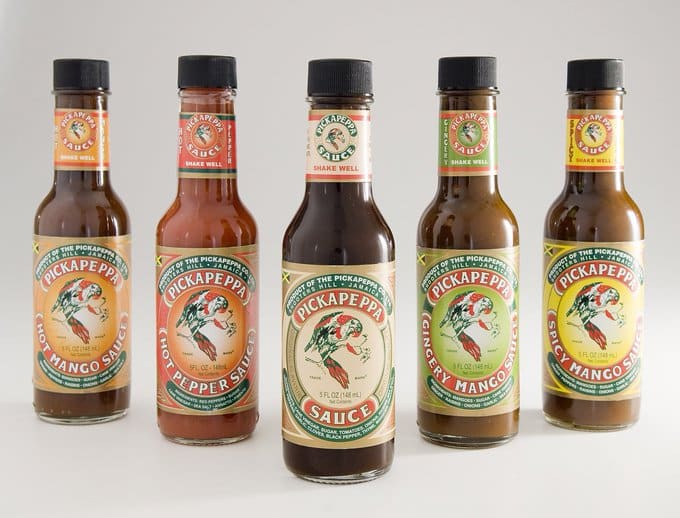 It's also a key ingredient in a Bloody Mary cocktail – or a Bloody Maria, for those who prefer Jamaican rum to vodka.
But the product also carved out a market in Japan, and slowly but surely is extending its other foreign markets. Occasionally the product can be hard to find on supermarket shelves in Jamaica, as the company tries to meet its export orders.
Although best known for its classic product, the company produces several other lines, including a hot pepper sauce and a few mango sauces. These mango sauces area fairly recent addition to the portfolio, having acquired Ruth's Sauces from a Jamaican family, and rebranding them. They include the spicy mango sauce, the gingery mango sauce and the hot mango sauce.
Another addition is the Pickapeppa Original Jerk Marinade, as the company tries to benefit from the worldwide demand for Jamaican jerk products.
But each of the products includes the classic image of a parrot holding a chili pepper, which has been carried on its products for generations.
The image is such a classic that it has occasionally been copied by various competitors, including a similar product from Costa Rica, which carried two similar parrots on its packaging.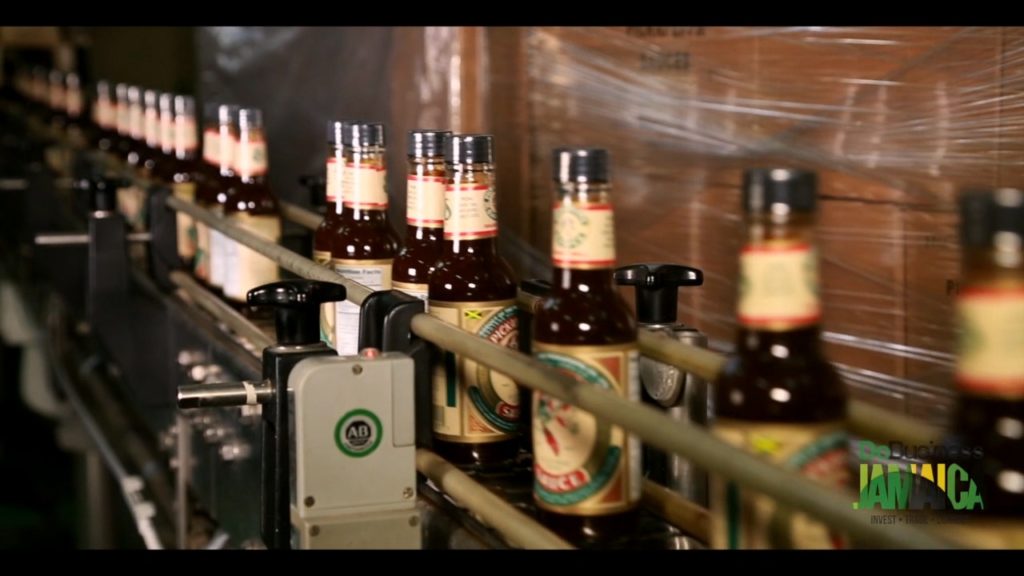 On the official Pickapeppa site, a bottle any one of its sauces sells for a discounted price of US$4.18, or US$5.26 for its jerk marinade.
The sauce can be bought in the UK, and is available online with Sainsbury's at £3 per 5 oz bottle.
Meanwhile, despite the commendations, Pickapeppa Sauce doesn't appear to be an ingredient in any of the dishes that Lawson has on her site. A search for Pickapeppa sauce does suggest 148 dishes, but reveals spicy dishes that don't actually call for Pickapeppa, such as 'Barbequed Quail', and 'Korean Calamari' and 'Chicken Teriyaki'. But any Jamaican cook could improve the flavour with a bit of Jamaica's favourite ingredient.
For those desperate for recipes the Pickapeppa website does have a range on its site, ranging from Buffalo Wings and Jerk Chicken to Spicy Bloody Marys and even Creamy Salad Dressing.