Big brands may need to rethink their celebrity endorsement strategies
By Ricky Browne
Brands need to think carefully from now on before putting their products in front of influencers.
Coca-Cola lost US$4 billion in value on Monday, when global football star Cristiano Ronaldo slowly and deliberately removed two bottles of Coke from camera view, when he prepared for a news conference before his first Euro 2020 match in Budapest, Hungary.
The Portuguese star, who many believe to be the best football player in the world – though some Lionel Messi fans may protest – is well known for treating his body like a temple, and avoiding alcohol, fizzy drinks, crisps and anything that might be of limited nutritional value.
INTERNET STAR
Ronaldo is also a massive internet star, with 299 million followers on Instagram, and more than 90 million followers on Twitter. He in fact has more Instagram followers than anyone else. The Rock comes up second with 246 million followers, just ahead of Ariana Grande with about 243 million followers.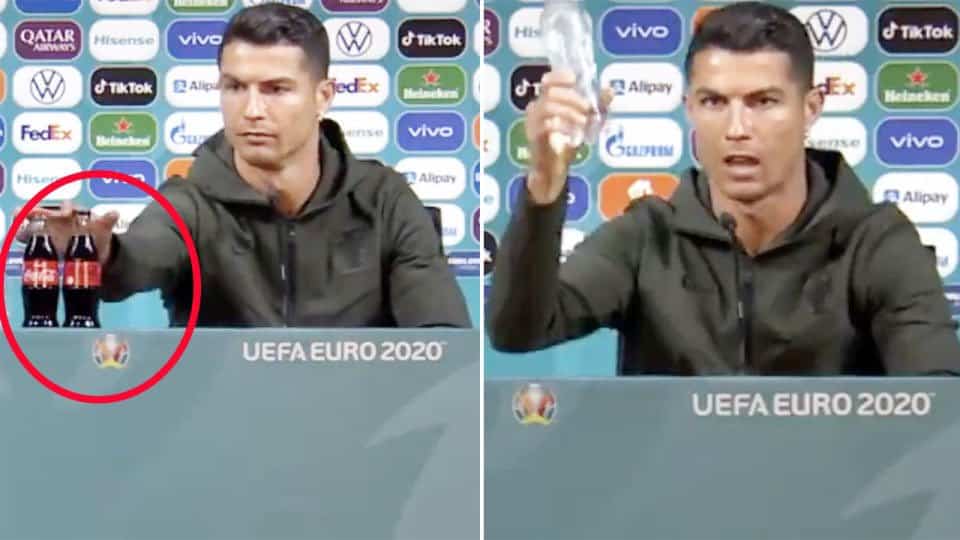 Love him or hate him, Ronaldo is a role model for millions.
In comparison, Coca-Cola has only about 3 million followers on Instagram and 3.3 million on Twitter. Not really in the same game.
After removing the two offensive bottles, Ronaldo picked up a bottle of water, and said "Agua" to the journalists – but not just to the journalists in the room, but to millions of fans around the world, and to an unknown number of stock market investors as well.
VALUE PLUMMETS
Almost immediately, Coke's stock plummeted by about 1.6 percent, or about US$4 billion – presumably significantly more than Coke has paid to sponsor the Euro Championship.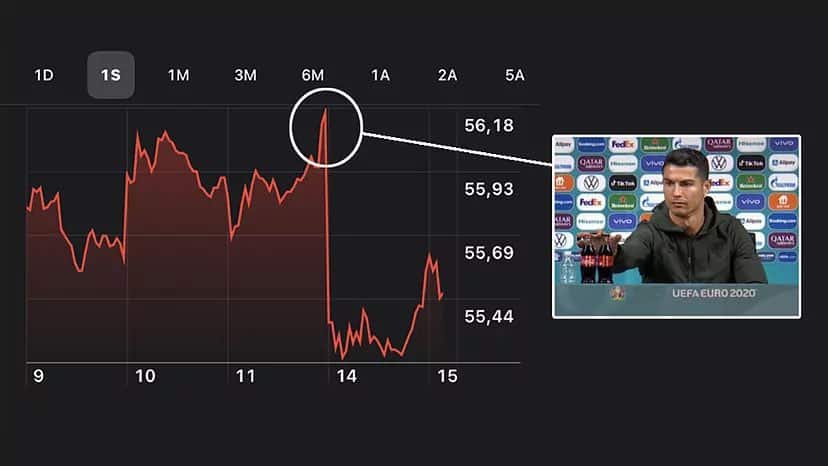 The stock fell from US$56.17 to $55.22, which saw the company's value fall from US$242 billion to US$238 billion.
A Euro 2020 spokesman responded with a statement that said "everyone is entitled to their drink of preferences".
Some have pointed out that in the past Ronaldo hasn't been above promoting or even drinking Coca Cola. Others have even publicised previous ads of Ronaldo promoting KFC – not usually thought of as a health food.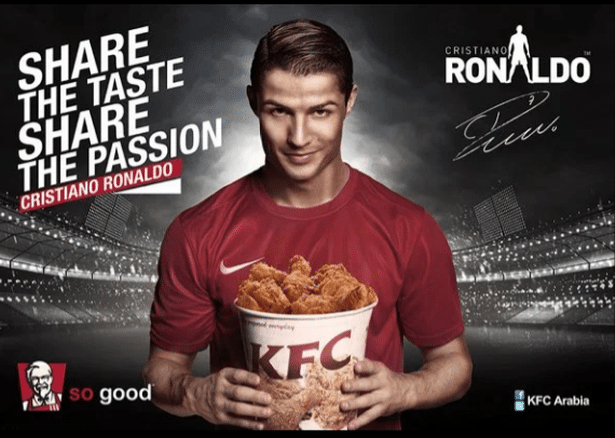 But these days he says he gets angry if his older son Christian Ronaldo Jnr dares to eat crisps or drink a Coke.
The move by Ronaldo almost over shone the two goals he scored in the later game with Hungary, and almost over shone him becoming the highest goal scorer in Euro history, putting Michel Platini into second place.
But in some ways, it has over shone those two accomplishments – as it has shown the power that Ronaldo has as an influencer, and the power that other powerful influencers have.
PAUL POGBA
A day later French player Paul Pogba acted in a similar way. He removed a bottle of (non-alcoholic) Heineken from view during a news conference was similar – but didn't have the same effect. Heineken had demonstrated a little awareness by ensuring that the Heineken in question was non-alcoholic – given that Pogba is a Muslim and does not drink alcohol. But that was clearly not sufficient.
Fortunately for Heineken, Pogba's action didn't appear to hit the company in its pocket. And Coke must have been relieved that he left their bottles alone.
In the future, both Coke and Heineken may want to think twice before trying to get their products in the same frame as big sports stars. They may have to be content with the fact that their brand is plastered all over the wall behind the stars.
But despite the US$4 billion hit, it is the later hit that may most affect Coke's profits. Many fans, particularly young ones, may now want to take a page out of Ronaldo's book and avoid fizzy drinks.
Fortunately for Coke, Ronaldo is now 36, and though in great physical shape, it is thought this might be his last Euro. The problem might be if other sports stars start to behave in a similar way, and refuse to have brands which they neither use nor promote, try to boost their popularity via association.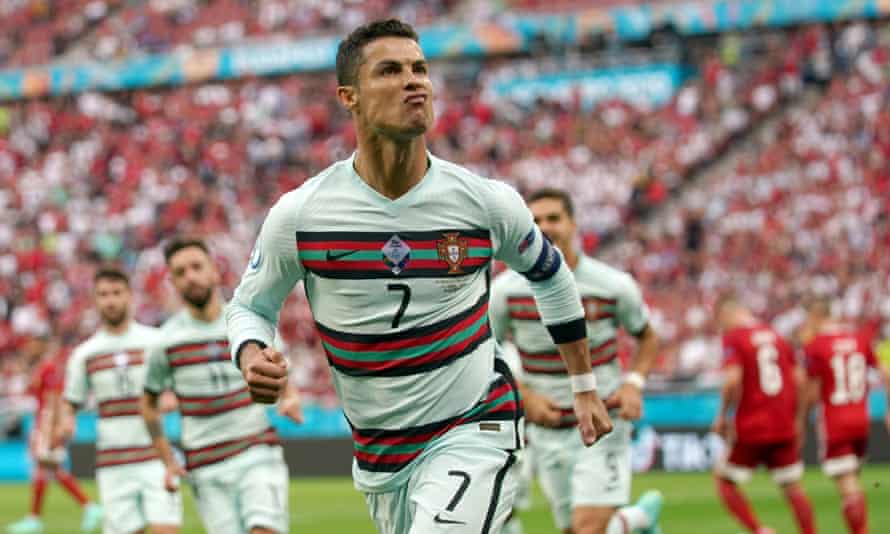 By Wednesday, Coke's stock price on the New York Stock Exchange had recovered slightly to US$55.04.
It will be interesting to see what beverages are placed in front of Ronaldo for his next news conference. Chances are Coke won't be anywhere in sight, though a bottle of one of Coke's many water brands may well be. DASANI, which is the biggest water brand in the USA and which is owned by Coca-Cola, could be a good bet.
Meanwhile, its going to be a hard slog for Coca-Cola to promote itself as a great drink for people who love football and fitness.