Big talk at COP26 — but some large polluters don't bother to show up
Most of the  world's most important leaders met at the G20 in Rome over the weekend, and most of the world's leaders are meeting now in Glasgow at COP26 – with the focus meant to be on what many call the existential threat that hangs over the planet.
Climate change, and trying to contain the global increase in temperature to 1.5 degrees Celsius is considered vital to continue life as we know it.
It as if the world was being attacked by space invaders, and needed to come together in a united force to safeguard the planet and all life on it.
But the seriousness of the situation appears to be of little consequence to France, which is still smarting from Australia deciding to get its future nuclear submarines via an alliance with the US and UK rather than from France.
And now its really cross, because of a disagreement over whether or not its fishing vessels should have more access to the fish in British waters, now that the UK has left the EU. Further, it has called for the UK to be punished for leaving the EU.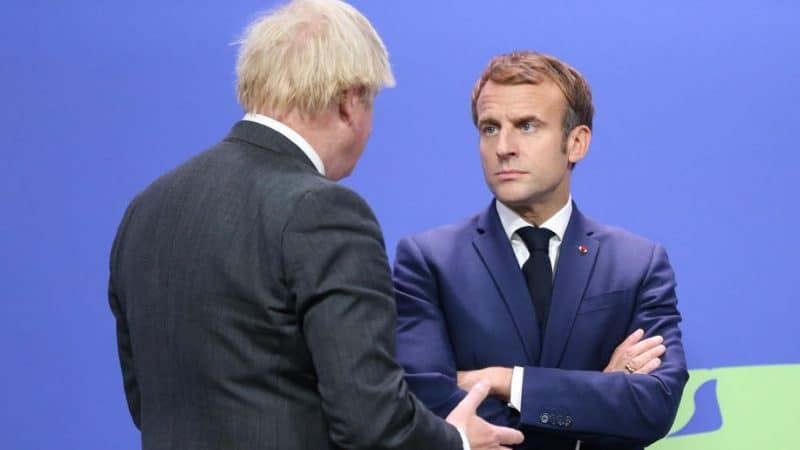 One would think that such concerns were small fry when compared to what is described as a threat to humanity and indeed all life on Earth.
Meanwhile, tough language came from a stream of world leaders at COP26 which was attended by delegations from some 200 countries.
Speaking at the launch of COP26 today, Prince Charles said that a "war-like footing" was needed.
"Time has quite literally run out…. We know what we must do, with a growing global population placing ever increasing demands on the planet's finite resources, we have to reduce emissions urgently and take action to tackle the carbon already in the atmosphere, including from coal fired power stations," Prince Charles said.
Trillions, he said, not billions, would be needed to defeat the crisis.
UK Prime Minister Boris Johnson said: "while COP26 will not be the end of climate change, it can and it must mark the beginning of the end."
Unlike to his speech to global leaders at the UN last month, Johnson did not mention Kermit the Frog, or the difficulty of being green.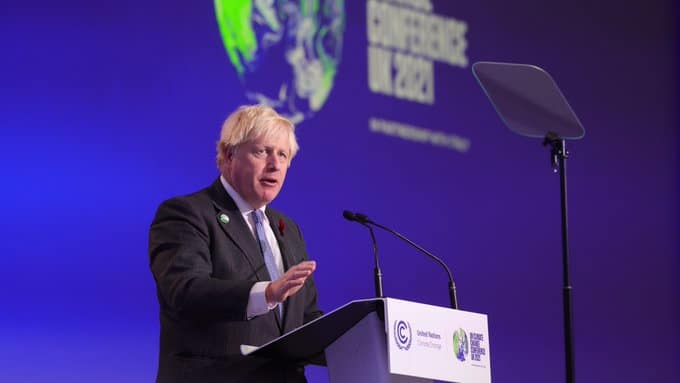 Instead he turned to James Bond for inspiration, saying that the current crisis was similar to the British spy grappling with a "doomsday device" that could wipe out humanity.
"We may not feel much like James Bond. Not all of us necessarily look much like James Bond. But we have the opportunity and the duty to make this summit the moment when humanity finally began to defuse that bomb."
"We are now coming centre stage before a vast and uncountable audience of posterity and we must not fluff our lines or miss our cue," Johnson said
"Because if we fail, they will not forgive us. They will know that Glasgow was the historic turning point when history failed to turn. They will judge us with bitterness and with a resentment that eclipses any of the climate activists of today – and they will be right."
His quote that the world was now "one minute to midnight" made headlines in the British papers.
Predictably, the essence of Johnson's speech was not appreciated by environment group Extinction Rebellion UK. "Spoken like an addict promising to give it up next year, or by 2050 at the latest. Boris on top truth dodging form, as he prepares to take no responsibility for the outcome of #COP26" tweeted the group.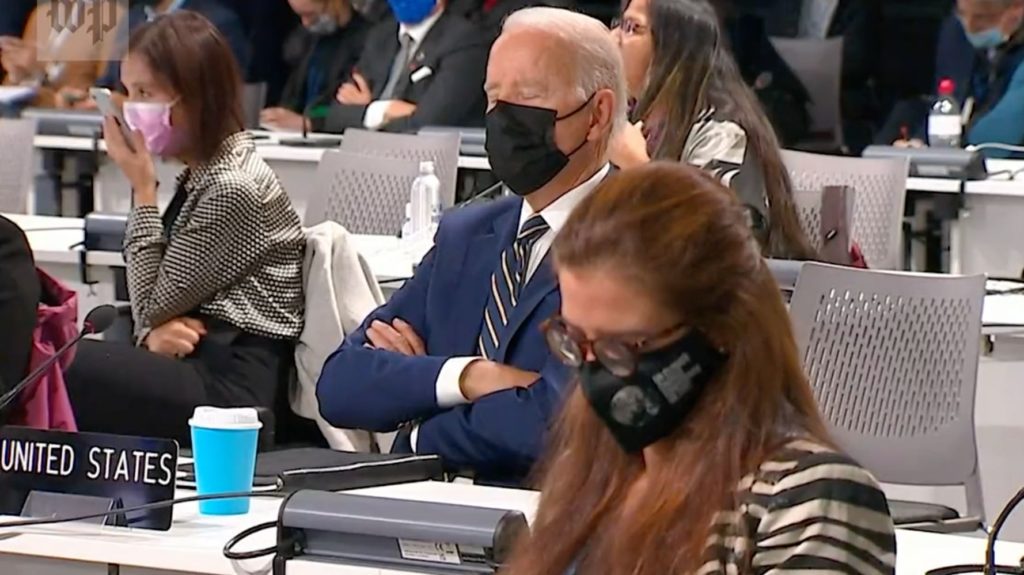 "Planet change is already ravishing the world' said Biden, speaking about increased natural disasters. It was a "moral and economic imperative" to tackle climate change he said. He spoke of what the US intends to do in its own country, and said that it was in the self interest of all countries to take action against climate change.
"We hope to lead by the power of our example. I know that hasn't always been the case" – he said in an apparent swipe to the former Trump administration.
He spoke of a short term sprint to contain global warming to 1.5 degrees and a marathon till 2050 for net zero.
"Climate change is already ravaging the world. It's not hypothetical. It's not a hypothetical threat. It is destroying people's lives and livelihoods, and doing it every single day," Biden said.
Biden seemed to go on well beyond the three minute time limit for his speech. But then again, as one of the largest polluters in the world, he was probably due more time than smaller nations such as the Seychelles and Jamaica.
The Seychelles – a nation made up of 150 low-level coral atolls in the Indian Oceans is under more immediate threat than most, as outlined by the President of the Seychelles Wavel Ramkalawan who said: "Seychelles is a victim. So are other Small island developing states (SIDS). We are already gasping for survival."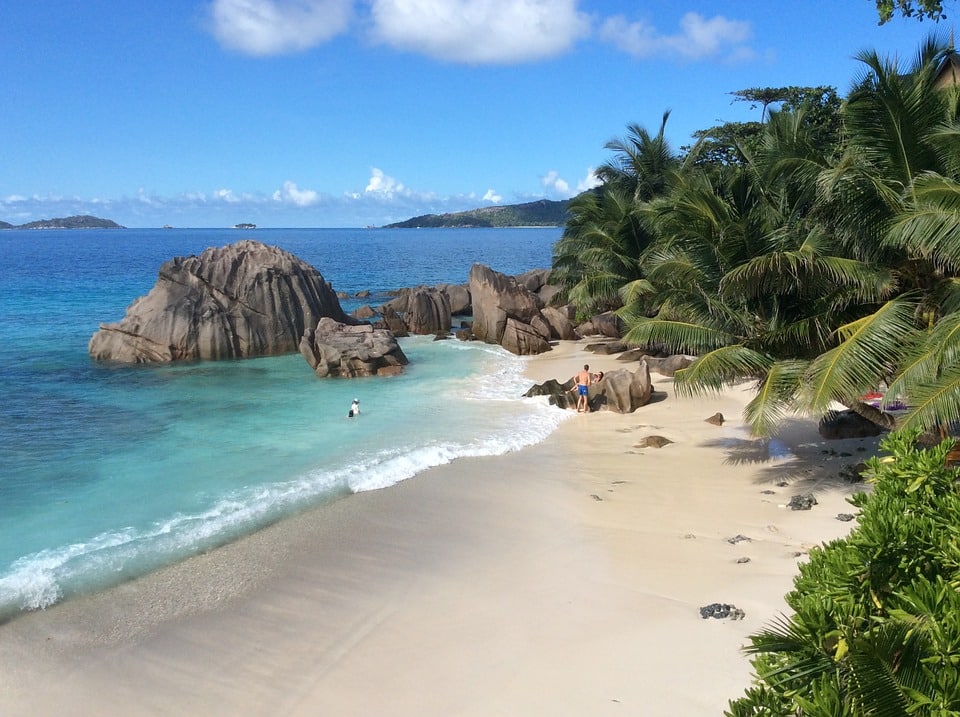 "Our message from the Seychelles is simple – we have to act immediately."
Altering an African proverb, he said "If you want to destroy the planet go alone, if you want to save the planet, let us do it together."
"The time to act is yesterday," he said.
Next up was President of France Emmanuel Macron, who spoke in French, who seemed to put all other concerns aside to address climate change.
He addressed the countries who were the largest polluters to do more – though not naming them. He said it was the poorest countries in Africa and the Caribbean who would be first and worst affected. He said it was key that the countries that pollute the most should raise their ambitions.
He also spoke of bio diversity and trade as two components that should be attached to climate change.
Prime Minister of Canada Justin Trudeau followed in quick time, speaking in both English and French. Canada is a major producer of oil and gas. But Trudeau said his country would be introducing a cap on oil and gas production, cutting back radically, to make it to net zero by 2050.
"Just as globally we've agreed to a minimum corporate tax, we must work together to ensure it is no longer free to pollute anywhere in the world. That means establishing a shared minimum standard for pricing pollution," Trudeau said.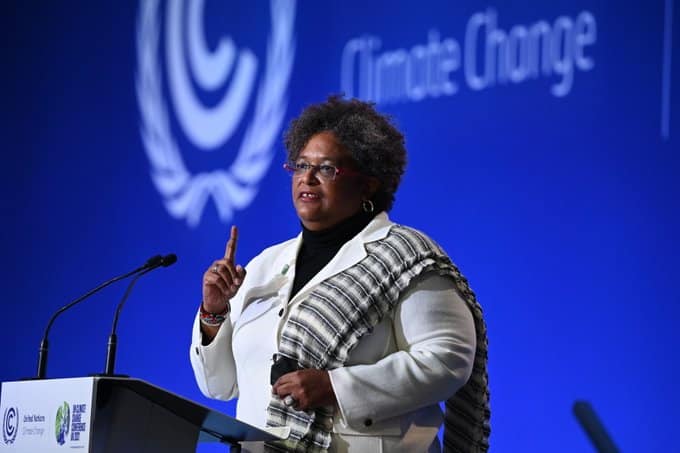 One of the strongest speeches appeared to come from the Barbados Prime Minister Mia Motley earlier appeared to hit out at other world leaders who had failed to show up, saying "We can work with who is ready to go, because the train is ready to leave." She spoke after Antigua and Barbuda Prime Minister Gaston Browne, and before Jamaican Prime Minister Andrew Holness.
"Those who are not yet ready, we need to continue to encircle and remind them that their people, not our people, but their citizens need them to get on board as soon as possible," she said.
 "1.5C is what we need to stay alive – two degrees is a death sentence for the people of Antigua and Barbuda, for the people of the Maldives, for the people of Dominica and Fiji, for the people of Kenya and Mozambique – and yes, for the people of Samoa and Barbados," she said.
Among the world leaders who were not in attendance were Xi Jinping of China, Vladimir Putin of Russia, and Jair Bolsonaro of Brazil – all major polluters.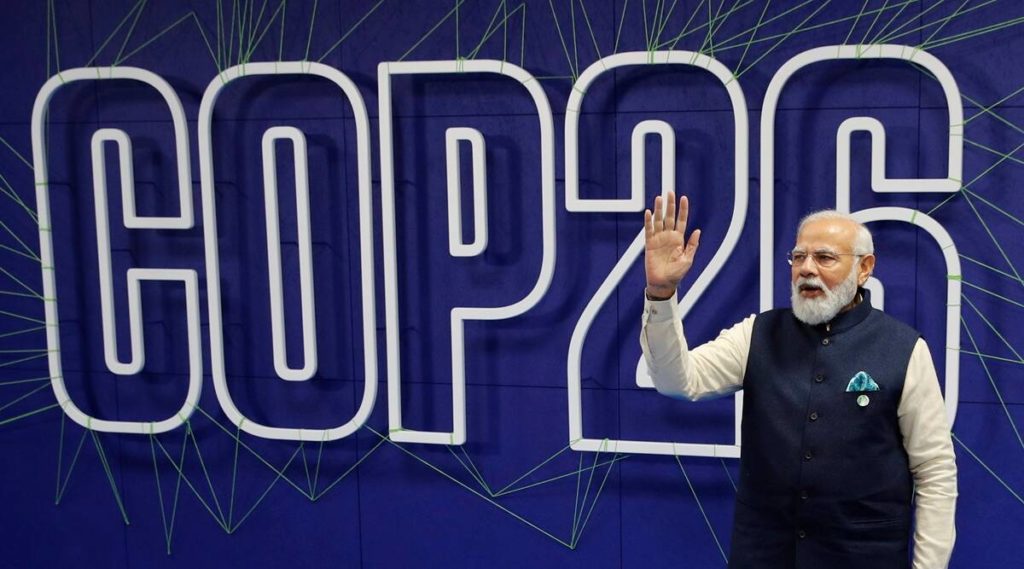 Narendra Modi of India, another major polluter, did make it to the conference after all. Speaking in Hindi, he said that India was the only large country that had followed its commitments to the Paris commitments.
He spoke on the LED light bulb campaign, and the net zero campaign for the Indian railway system, which would result in cutting its carbon footprint. He said there was a need for people to go from the welfare of self to the welfare of all.
He said with efforts to cut its carbon footprint, India would reach net zero emissions by 2070 — thats about 20 years later than many other countries are promising.
But he expected developed countries to make US$1 trillion available for attacking the climate crisis globally.