Stories on Christmas parties take a back seat
By Ricky Browne
There isn't much good that you can say about the upcoming tidal wave that the UK is about to face from the Omicron variant of the Covid-19 virus, but it could make the media move on from the Christmas party stories that have dominated it recently.
The country today faced its first death from the variant, which dampens hope that this extremely infectious variant would be much less deadly than the older Delta variant.
"So I think the idea that this is somehow a milder version of the virus, I think that's something we need to set on one side and just recognise the sheer pace at which it accelerates through the population. So the best thing we can do is all get our boosters," Prime Minister Boris Johnson said.
And it was announced today that more than 20 percent of new Covid cases are now because of the Omicron variant.
Health Secretary Sajid Javid said today that Omicron would become the dominant variant within the next 48 hours.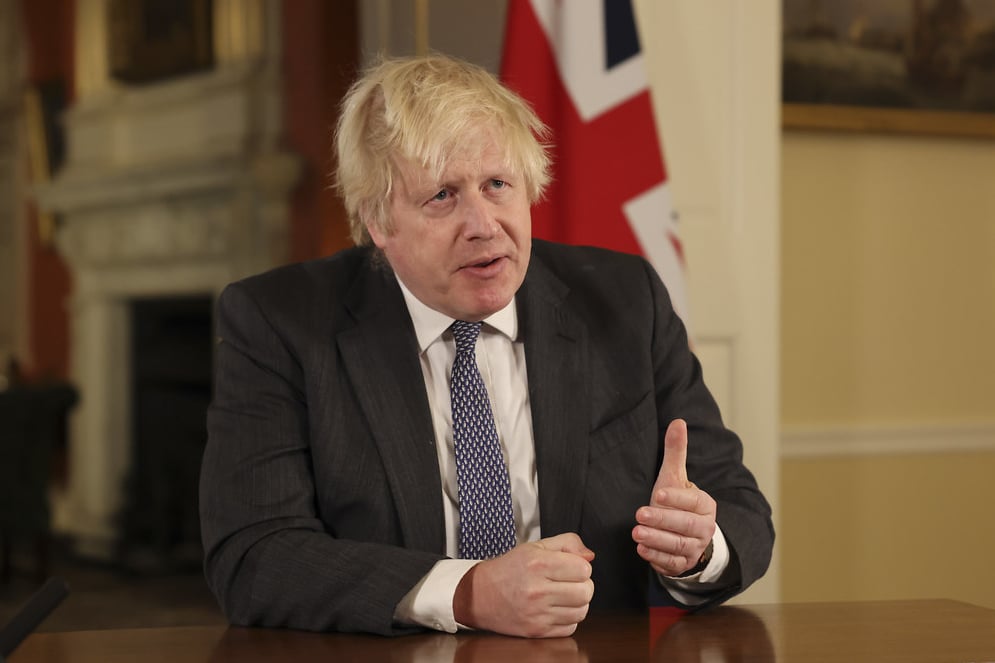 Prime Minister Boris Johnson held a rare statement to the nation during prime time yesterday to speak about the emergency and the country moving to alert level four – the second highest level. He also announced the government's decision to boost its booster campaign to more than one million shots per day, up from the record of 500,000 shots on Sunday.
The objective is to offer every citizen over the age of 18 to get a booster shot by December 31, cutting the previously stated end-date of January 31 by a month.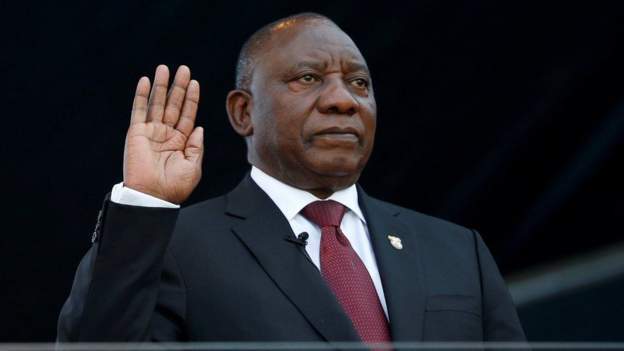 He warned that the country was about to face a "tidal wave" from the Omicron variant, which was first identified in South Africa. As if to amplify the threat of the variant, South African President Cyril Ramaphosa caught the variant yesterday, although he had been fully vaccinated.
Tomorrow the government is expected to pass "Plan B" in Parliament, which will introduce new rules on people needing to prove they are vaccinated or clear of the disease before getting access to many places. Many libertarian MPs in the Conservative Party are against these new restrictions, but Labour has said they will support Johnson – so the Plan is expected to pass.
But the new restrictions of Plan B already look too weak to offer protection from the Omicron variant – so prepare for a Plan C.
It is not yet known how severe this variant is, but what is known is that two vaccinations give little protection — which is why the government is leaning on booster shots to protect the population. It is believed that a booster shot — usually of a brand that is different from a receivers first two shots — can offer 75 percent protection. That is significantly below the rate of 90+ percent protection that the vaccines were said to provide for the original virus — but is still a lot more than nothing.
Meanwhile, the chances of the UK having a decent Christmas unlike the one last year, seem to be fading by the minute. No one, least of all the government, wants to put in the kind of restrictions on movement that were in place last year — when people couldn't visit their own families. But with a rate of infection that looks like it could be even greater than the infection rate last year, it may be just a matter of days, before government reintroduces the same type of restrictions.
But on the plus side, maybe the media will now find something more important to tell us, besides the Christmas party or parties that may or may not have happened one year ago at 10 Downing Street.
Even the left-leaning tabloid The Mirror, led with the booster story today – after leading yesterday with another story about an online Christmas quiz event that took place at Downing St last year.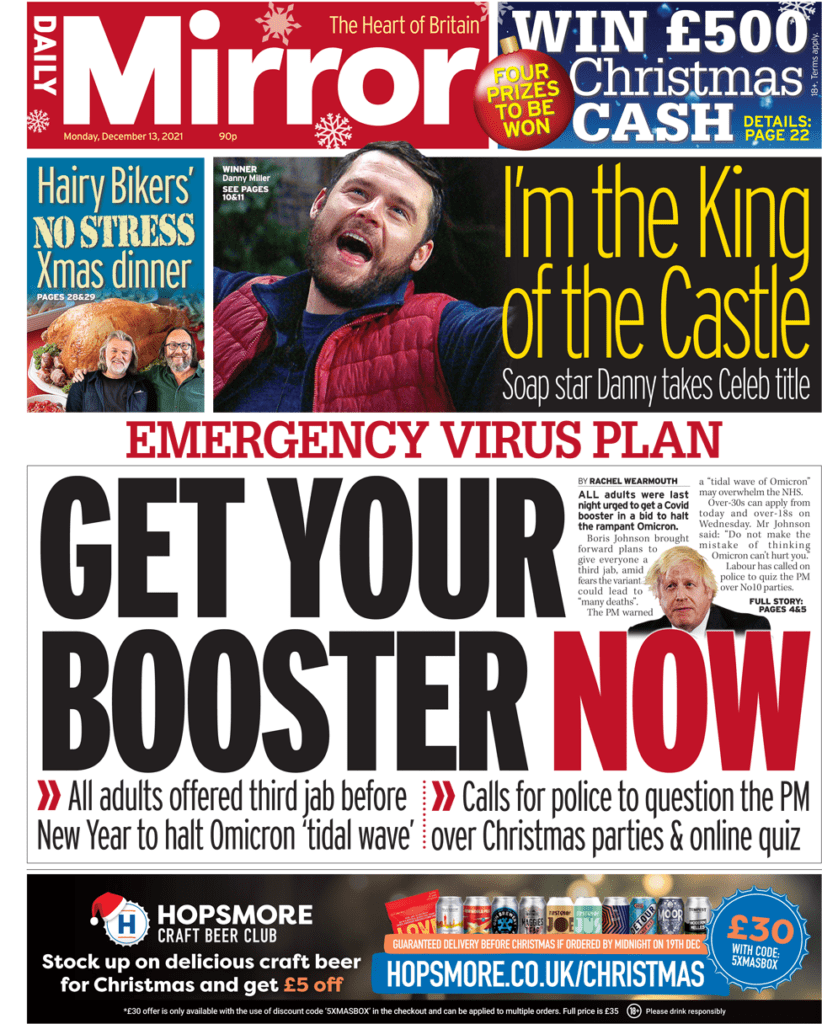 "Get your booster NOW" was the Mirror headline today – though it did find room for a sub headline "Calls for police to question the PM over Christmas parties and online quiz".
The story is still big on CNN, however, which seems to think that is more important to its local and international audience, than the heightened emergency that the UK is now facing with Omicron.
The media has also been reporting that people may not want to follow any further restrictions, if they believe that there were Christmas parties at 10 Downing St last year, at a time when they weren't allowed.
Many people, however, may believe that it is better to follow these restrictions now — if they are designed to protect them, their families and their communities — even if there are some crazy people out there who decide to defy those rules. That would include any crazy people in Downing St, who may feel that the rules don't apply to them.
Actually, it turns out, the rules might not apply to 10 Downing St — so that if any parties were happening there, they might not have been breaking the law. But it still isn't a good look if true.
Meanwhile, many other countries have not yet started to feel the impact of Omicron — with Jamaica recently announcing that it expected people to go back to work — at the same time that the UK announced that people should return to working from home if able.
Those who do not know their history are doomed to repeat it.