Can he pull party together?
As the British economy seems to reel from the pressures of the Covid-19 pandemic, Keir Starmer, leader of the Labour Party and Leader of the Opposition got the chance to speak face to face with Labour supporters at the party's conference in Brighton today.
He gave a speech of about an hour and half to try and sell himself to the party as the country's next Prime Minister – but it was a hard sell. It was his first time speaking in-person at the party conference as the party leader. He was speaking on the fifth and last day y of the conference.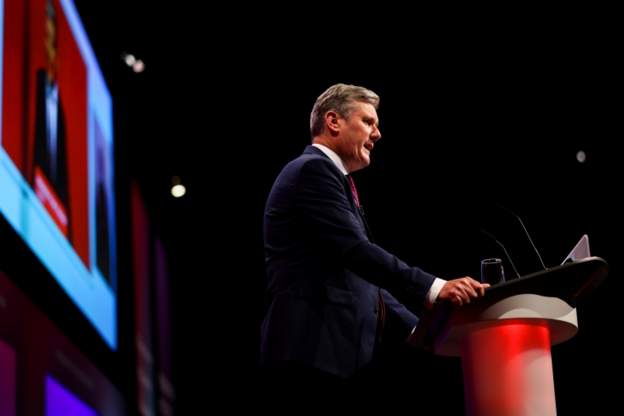 With shortages of petrol on the forecourts, increasing inflation, shortages of some other foods and all the problems attached to coming out of the pandemic, there was lots for Starmer to work on for making a case for a new Labour government.
"Level up? You can't even fill up" he said.
"We will never under my leadership go into an election with a manifesto that is not a serious plan for government," he told the conference.
How's that for red meat?
Starmer was heckled at some points by some Labour supporters, even at a point when he was speaking about the death of his mother.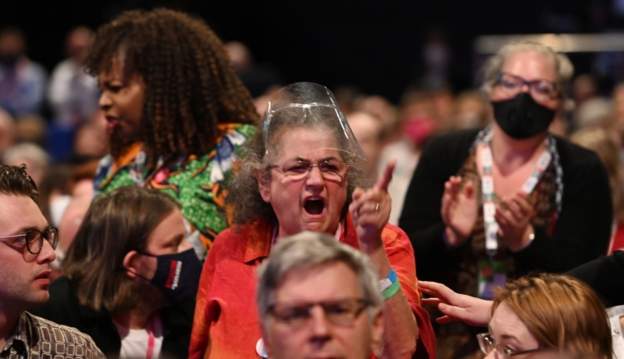 But Starmer was ready for that, and his response "Shouting slogans or changing lives, conference?" got a standing ovation.
Not that there isn't a political power in slogans – as the Conservatives have demonstrated with slogans like "Get Brexit done" and the newer "Levelling Up".
Outside of his speech, Starmer also tweeted his main message – in a much shorter version than his party speech.
"This is a big moment that demands leadership. Leadership founded on principles that have informed my life – and with which I honour where I've come from. Work. Care. Equality. Security. They're British values. They're the tools of my trade. And with them, I'll go to work," he tweeted, receiving some 5500 likes.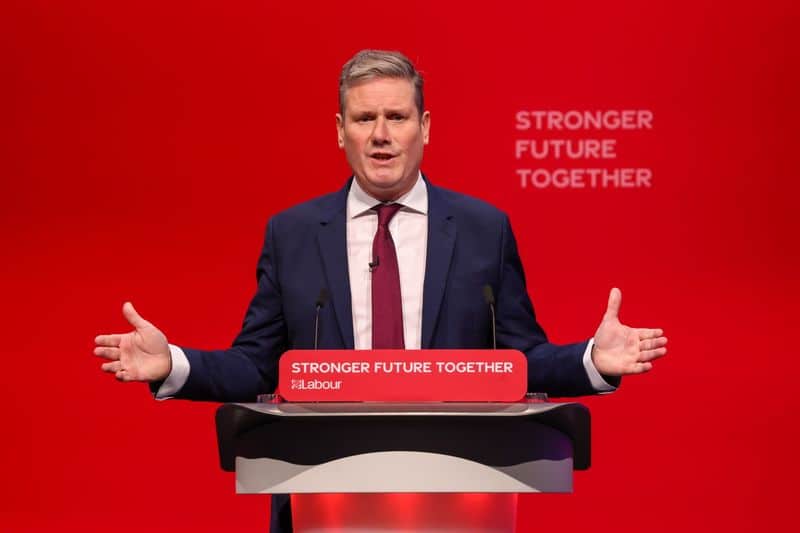 The party has been grappling with projecting a more electable persona, not the far left views of former leader Jeremy Corbyn. But while Corbyn could excite his supporters while turning off many others, Starmer's style is more level-headed, measured and well… boring.
And nor does he seem to have the power to rein in the more inflammatory remarks coming from some members of his team.
Earlier during the conference, Labour deputy leader Angela Rayner fell back on a familiar anti-Conservative trope, calling the party's leadership 'scum'.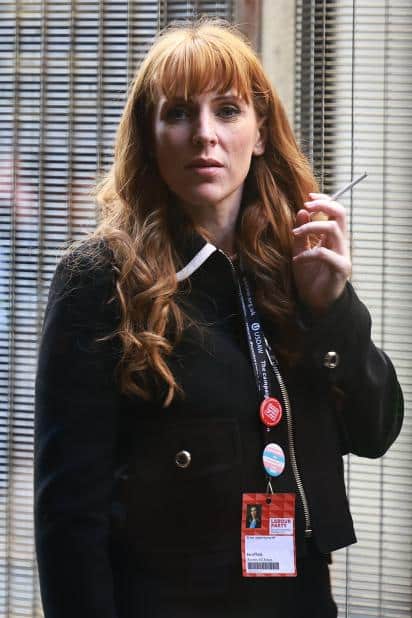 Raynar said: "We cannot get any worse than a bunch of scum, homophobic, racist, misogynistic, absolute vile… banana republic, vile, nasty, Etonian… piece of scum."
What does that make people who voted Conservative in the last election – including former Labour supporters many of whom backed the Conservatives over Labour for the first time ever? Is this the kind of language that can win back those former Labour supporters?
And what was the reference to Banana Republic about? Was that an insult for countries in Central America or an insult against the American clothing brand?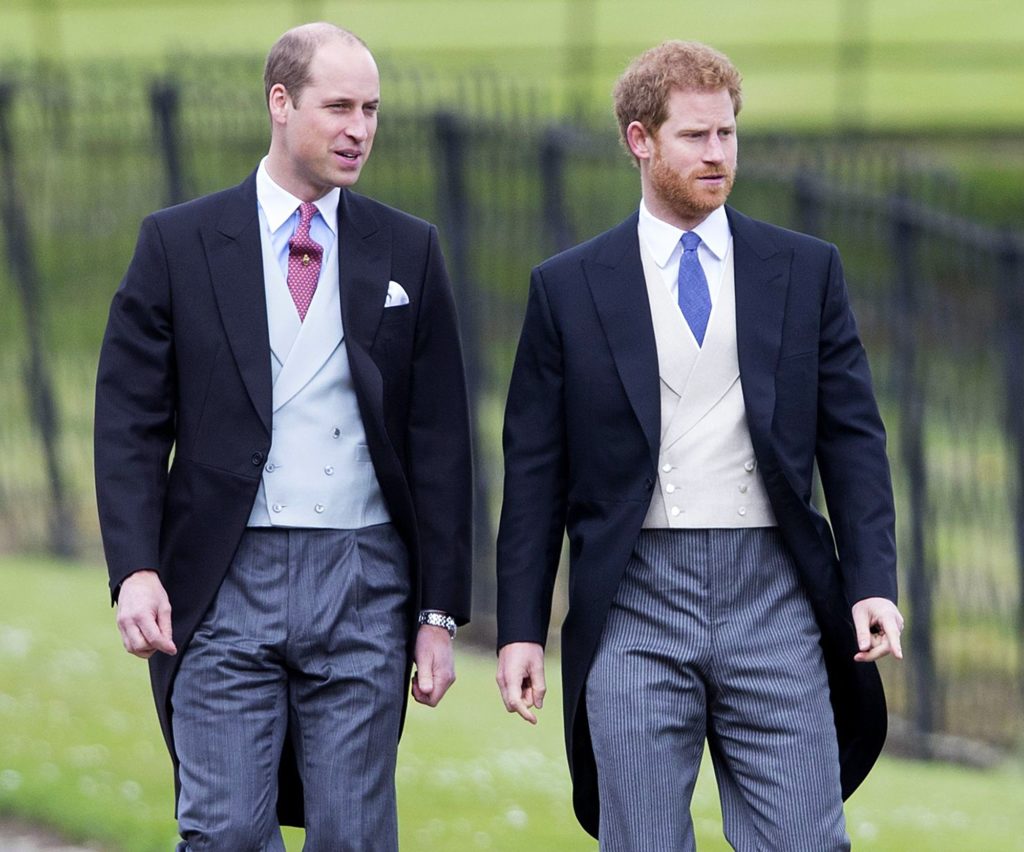 Later Rayner tweeted a defence of her statement. "People seem to be far more concerned with my choice of language than the fact that @BorisJohnson has made comments that are racist, homophobic and sexist. I'm very happy to sit down with Boris. If he withdraws his comments and apologises, I'll be very happy to apologise to him."
But her comment wasn't only about Boris. And what is her opinion on former Etonians Prince William and Prince Harry. Would she consider them pieces of scum as well. If not, why not? Would she be willing to swear allegiance to an Etonian heir to the throne?
Her comment got 18,100 likes and got 2,000 comments.
Starmer told Andrew Marr that he didn't support the comments and that he'd never use that language himself, adding that he would speak to her about it.
But the incident showed the kind of difficulty Starmer has in reigning in the more unvarnished views of his own leadership. Such comments can be supported by the hardcore Conservative-hating wing of the party – but it doesn't help the party to win back lost Labour supporters, and even less win over current Conservative supporters.
The end result is that the party does not seem to be singing from the same hymn sheet. And a party divided will find it hard to win the next general election, even if it presents itself as having swung closer to the centre. The fact that the Conservatives have in many ways swung to the left will make it even hard for Labour to differentiate itself from the governing party – meaning that personality will become more important.
And unfortunately for Starmer, though many would agree that he seems to be a decent person – and way more preferable than Corbyn – his personality lacks the wattage of Johnson's. A sensible manifesto is a good start – but Labour's chances at the next election at this point look like they will hang on the Conservatives falling to a self-inflicted wound.