Prospective immigrants vote with their feet
By Ricky Browne
If it was such a bad idea for the UK to leave the EU, one would imagine that the number of potential refugees who would leave France to try to make it to England's shores would be on the decline.
But that doesn't appear to be the case, as more than 10,000 people seeking refugee status have crossed the English Channel from France – almost 20 percent more than the 8400 people who made risky journey for all of 2020. And that's not even talking about the refugees who manage to come to the UK via air.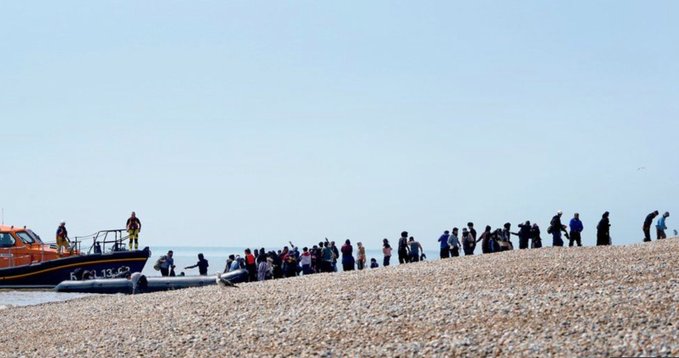 One of the perceived advantages that Leavers saw about getting out of the EU was decreasing the numbers of refugees from Africa and Asian countries like Afghanistan and Pakistan. But the refugees themselves seem quite content to leave presumably safe sanctuary in the EU to head across the treacherous waters of the English Channel in the flimsiest of vessels.
A frontpage story by The Telegraph today was headlined "Migrant arrivals hit 10,000 as French say they can't stem the tide".
On one day this week, 482 people refugees landed in the UK after crossing the English channel in small boats from France.
Clearly there must be something about the UK – even when it is no longer in the EU – that makes it a more attractive destination for prospective refugees than France or indeed almost every other country on the continent.
Why would these people, many of whom risked their lives to make it to the EU, then risk their lives further to get to the UK, which is no longer a member state? Haven't they heard the arguments from British Remainers and the EU authorities, that leaving the EU was one of the most foolish and backward decisions ever made by the UK – and one which would set the country back politically, culturally and economically.
And what about the way that the UK has handled the Covid-19 pandemic. With just under 130,000 deaths since the pandemic started, the UK has one of the highest death rates in the world – worse than most EU countries, apart from perhaps Belgium and Sweden and one or two others.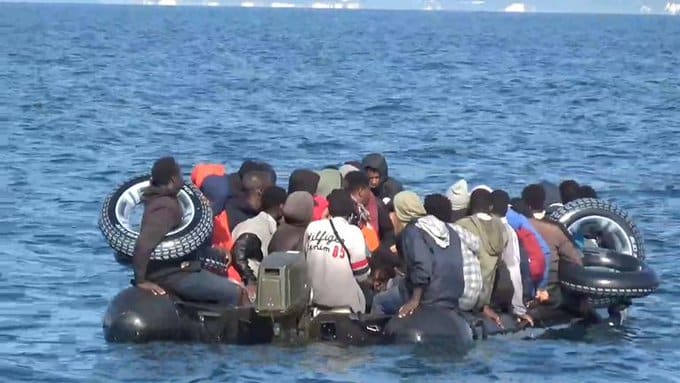 Why would they want to further risk their lives by choosing a country that seems to have let the disease run rampant when compared to some others? Especially, why would they leave France, which has a lower death rate than the UK?
Do they think that the UK has a higher level of freedom than other EU countries – something that may be important to many of the refugees – especially those that come from states with governments with a low standard of human rights?
Or do they think that the British economy will give them a higher chance of success than the economies of the EU states.
Maybe they think that they will face less racism of that the population will be more accepting of their presence than in countries like France or Germany or Italy or elsewhere.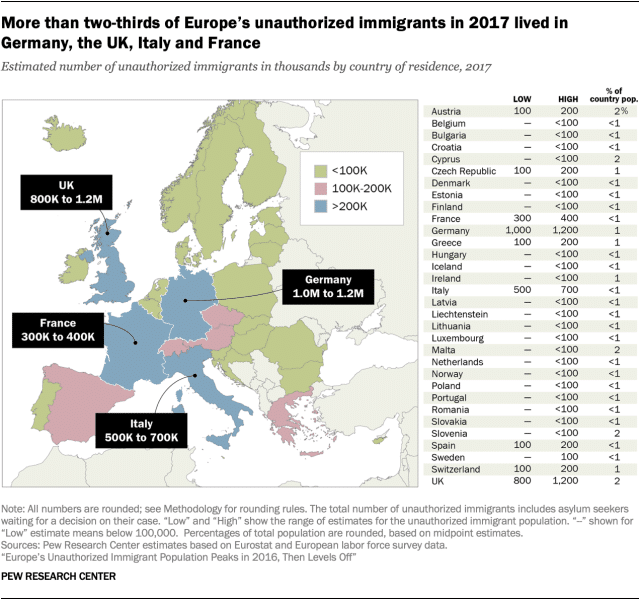 Or maybe they feel more connection to the UK, which has accepted more refugees than any other country in Europe other than Germany. Pew Research in 2017 said that the UK had between 800,000 and 1.2 million refugees, compared to between 1 million and 1.2 million in Germany – but much less elsewhere, including France with between 300,000 and 400,000 and Italy with between 500,000 and 700,000.
It is possible that many of these refugees to the UK already have family or friends from their home countries living in the UK.
Maybe the refugees feel that now that EU workers can no longer freely enter the UK to find job opportunities – there will be a vacuum for the kind of skills and training that they can bring, as labourers, or even skilled professionals.
But the point is that whatever the reason, or combination of reasons, 'unauthorised immigrants' keep on choosing to risk their lives further by leaving France to float across the Channel to make it to the UK.
France is doing little about it – despite the UK paying £54 million to the French to boost their efforts to halt the crossings. The French say it is against international maritime law to prevent refugees from crossing the Channel once they are in the process of doing so – and are said to escort boats or dinghies of immigrants into UK waters. But the British believe that the French can apprehend such people in French waters and carry them back to France. This seems to be the policy of another EU nation – Greece – which is believed to regularly block and turn back refugees at sea.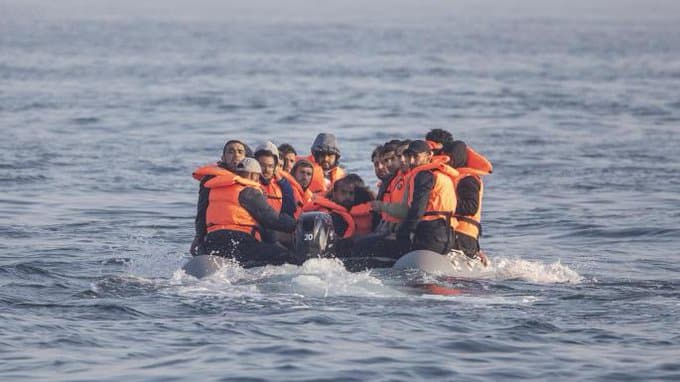 In fact, Home Office Minister Pritti Patel went on a fact-finding mission to Greece earlier this week to find out more about their tactics.
Meanwhile, many people in the UK wish that these refugees would not come here. This is not uncommon as citizens of many countries would rather not see foreign refugees come to their countries.
JAMAICA
It is a similar situation in Jamaica – a country that is not known to have much refugees. But earlier this week four Haitians landed on a beach in the Jamaican parish Portland – one of the closest points to Haiti, which is some 300 miles east of the island. Few Haitians come to Jamaica for refugee status, many more go to the Bahamas and the United States.
But there has been recent upheaval in Haiti due to the assassination of its president Jovenel Moïse, earlier in July, which may have caused this group of men to leave Haiti.
Jamaicans who do not have proper immigration status have regularly been sent back to the island from the United States, Canada and the UK, in a manner that many Jamaicans consider unfair. But when the opportunity arises for Jamaica to take a more lenient approach to people illegally landing on their shores – many Jamaicans take on a much harder posture.
 On social media many Jamaicans were quick to say that the four Haitian men should be processed and sent back to where they came from as quickly as possible. It was suggested that the men were probably criminals, and could be engaged in the gun trade which is known to exist between the two islands.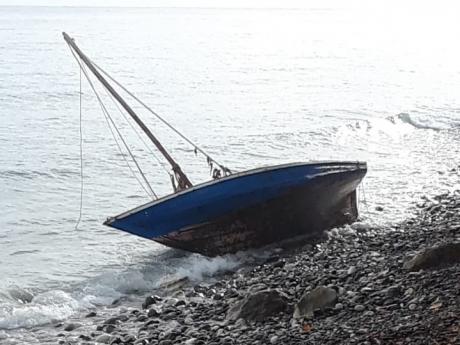 "Hurry up and send them back as soon as possible. Do not let them loose in Jamaica PLEASE," one person commented on the Jamaica Gleaner story.
"Send them back…we have enough problems of our own that we cannot even manage right now. Will they help to stem the flow of guns from Haiti to Jamaica? If yes, we could consider giving them a little time but if no, return them to where they belong right now," wrote another.
"Send them back to Haiti," was the simple statement from a third.
But not all comments were negative.
"I want to see which posts on here, is going to say send them back. I wonder if these same posts said same about US sending illegals back? Lol. Haiti is under extremely bad circumstances, far worse than Mexico and others. I say, Jamaica take them in. Show some humanitarianism that many Jamaicans demand from others!" wrote VXtruth.
"Give them asylum if they would like to remain. We go to other people's countries and overstayed our welcome all da time," noted Operation Chaos 1962-Present.
NATURAL INSTINCT?
But the negative comments about unfortunate people who may be seeking to improve their lives, even from people who live in the developing world, is proof that such emotions run high – probably even more so in developed economies. Are such hardline positions a natural instinct for much of humanity?
Some developing countries like Jamaica are unlikely to see an influx of political or economic refugees any time soon, but countries like the UK, the United States and some countries in Europe will continue to see increasing numbers of people seeking refugee status.
What is interesting is when a refugee safely makes it to the EU, but then seeks to endanger his (or her) life further to make it to the UK – a country which many believe will be on the decline as a result of its decision to leave that union.